Study Abroad Opportunities
LCSL majors and minors don't need to study abroad, but many find it to be an incredibly rewarding value-add to their UIC experience. And most see little to no added cost over what they pay in a normal semester. Students can choose language intensive programs, ones offering credit towards a variety of majors from psychology to engineering, or programs that are great options to fulfill general education requirements.
Most importantly, I got to know myself. That's what study abroad was about for me: submerging myself in a new culture, facing the unknown, and pushing myself to live on my own to see where I really stood in life.
Exploring Your Options
You and your parents can find extensive information on studying abroad and managing its costs, including local and program specific scholarships, at UIC Study Abroad. To stay up-to-date on study abroad events happening on-campus, follow @uicabroad on Instagram.
Intimate, Faculty-Led Trips
While there, explore the number of UIC faculty-led trips offered during the summer. Faculty from many UIC departments go to a variety of places across the globe. The School is involved in faculty-led trips to places such as: Siena, Italy; Oaxaca, Mexico; and more.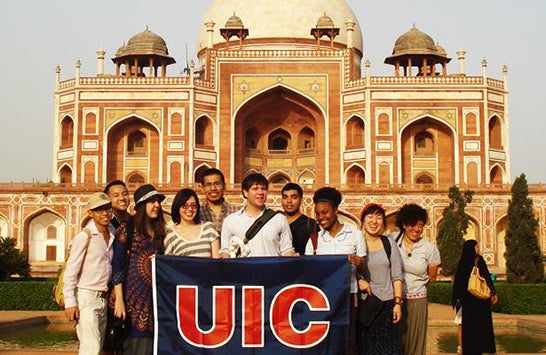 Exchanges for More Advanced Students
Some students prefer an exchange program, where they take classes directly from an international university, just as a home country student would. These can be particularly great options for advanced students who are highly independent.
Get Help Applying for Scholarships
UIC's Office of Special Scholarships helps numerous students win national study abroad scholarships each year. Find more information on how they can help you at UIC Study Abroad Scholarships.
When I moved to Paris, it turns out I was on line at a stop we had studied a lot (in FR 297) so it was really kind of a full circle experience of taking this course and it wasn't what I thought it was going to be but I ended up enjoying it and learning a lot about different groups in Paris. And then when I moved there I was right by the heart of all those different groups and in different cultures and it was all around me.