The School of Literatures, Cultural Studies and Linguistics (LCSL) is home to six independent departments, three academic programs, and the Sandi Port Errant Language and Culture Learning Center. Our 40 faculty members, 200 graduate students and 700 undergraduate majors and minors proudly reflect the global orientation of the UIC campus, as well as the diverse cultural and linguistic tapestry of the city of Chicago.
The School's focus on interdisciplinarity fosters a culture of collaborative research between faculty and students and creates a vital community of scholars who share insights across disciplinary borders and cultivate connections with the broader Chicago community. Our research findings and scholarship inform curricula to help our undergraduates participate in a global society and our graduate students participate in the research and teaching community at UIC and beyond.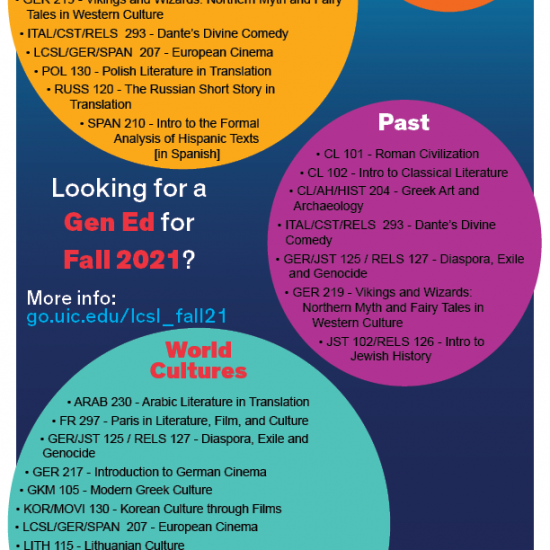 Gen Ed courses for Fall 2021!
Looking for a course? Check out our online catalog of courses in literature, culture, and linguistics **taught in English**. There's something in every Gen Ed category and for every interest!
Click to view the catalog!
LCSL By Program
| Undergraduates Majors | Undergraduate Minors | Graduate Degrees |
| --- | --- | --- |
| Classical Studies | Arabic | French and Francophone Studies (MA) |
| Computer Science + Linguistics (BS) | Central and Eastern European Studies | Germanic Studies (MA and PhD) |
| French and Francophone Studies | Chinese | Hispanic Studies (MA and PhD) |
| Germanic Studies (with optional Business Minor) | Classical Studies | Polish, Russian, and Central and Eastern European Studies (MA and PhD) |
| Polish, Russian, and Central and Eastern European Studies | French and Francophone Studies | Teaching of Spanish (MA) |
| Spanish | Germanic Studies | |
| Teaching of French | International Studies | |
| Teaching of German | Italian and Italian American Studies | |
| Teaching of Spanish | Linguistics | |
| | Moving Image Arts | |
| | Polish Studies | |
| | Religious Studies | |
| | Russian Studies | |
| | Spanish | |