Nov
10
2020
The Black Unity Mass: Liturgy as Prophetic Protest in Chicago
November 10, 2020
5:00 PM - 6:15 PM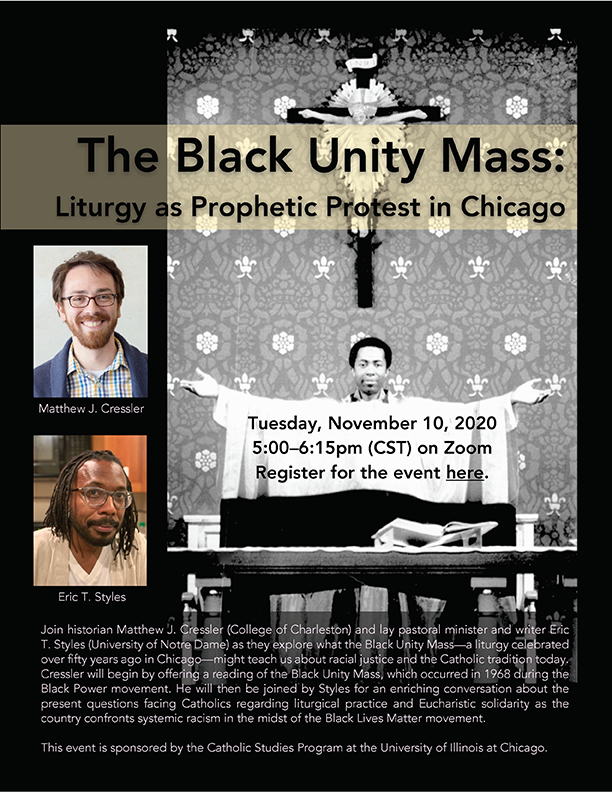 Click here to register and receive a link to the event.
More about the Event
Join historian Matthew J. Cressler (College of Charleston) and lay pastoral minister and writer Eric T. Styles (University of Notre Dame) as they explore what the Black Unity Mass—a liturgy celebrated over fifty years ago in Chicago—might teach us about racial justice and the Catholic tradition today. Cressler will begin by offering a reading of the Black Unity Mass, which occurred in 1968 during the Black Power movement. He will then be joined by Styles for an enriching conversation about the present questions facing Catholics regarding liturgical practice and Eucharistic solidarity as the country confronts systemic racism in the midst of the Black Lives Matter movement.
More about the Speakers
Matthew J. Cressler is assistant professor of religious studies at the College of Charleston. He is the author of Authentically Black and Truly Catholic: The Rise of Black Catholicism in the Great Migrations (NYU Press, 2017). His current research examines the history and ongoing reality of white Catholic racism. You can find more of his writing online at Slate, Religion News Service, and Zocalo Public Square. He is on Twitter @mjcressler.
Eric T. Styles is lay rector of Carroll Hall, an undergraduate residential community at the University of Notre Dame. He has written on theology, liturgy, cultural production, and race for America Magazine, Notre Dame's Church Life Journal, and Liturgy Training Publications. He is trained in Ignatian spirituality. Since 2013 Eric has also been a collaborator with Afro House, a Baltimore based music driven performance art ensemble.
Contact
School of Literatures, Cultural Studies and Linguistics
Date updated
Oct 21, 2020