2018-2019 Talks
Memory in Mind, Literature, and Language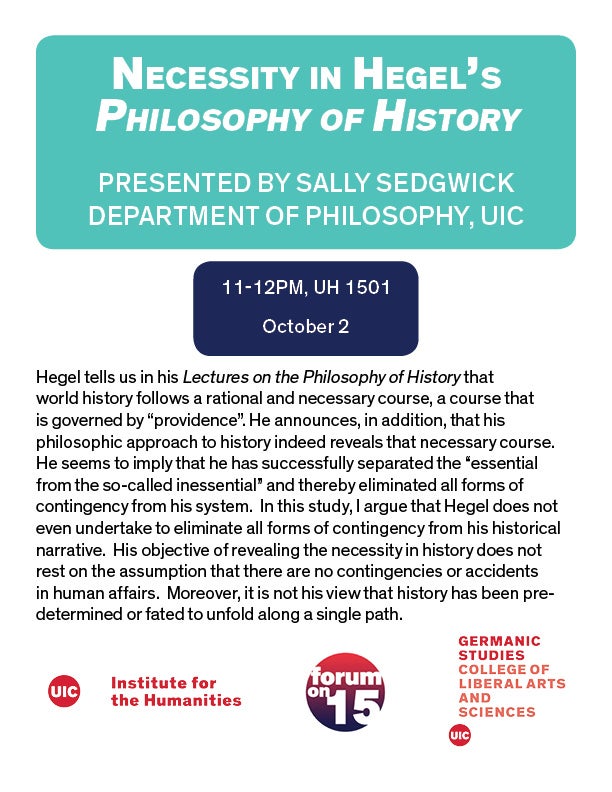 Sally Sedgwick
Department of Philosophy, UIC
October 2 • 11-12PM • UH 1501
Hegel tells us in his Lectures on the Philosophy of History that world history follows a rational and necessary course, a course that is governed by "providence". He announces, in addition, that his philosophic approach to history indeed reveals that necessary course. He seems to imply that he has successfully separated the "essential from the so-called inessential" and thereby eliminated all forms of contingency from his system. In this study, I argue that Hegel does not even undertake to eliminate all forms of contingency from his historical narrative. His objective of revealing the necessity in history does not rest on the assumption that there are no contingencies or accidents in human affairs. Moreover, it is not his view that history has been predetermined or fated to unfold along a single path.
Sponsored by:
Germanic Studies
Institute for the Humanities
School of Literatures, Cultural Studies and Linguistics
Biography as a Concept of Thought: Biographical Research and Narrative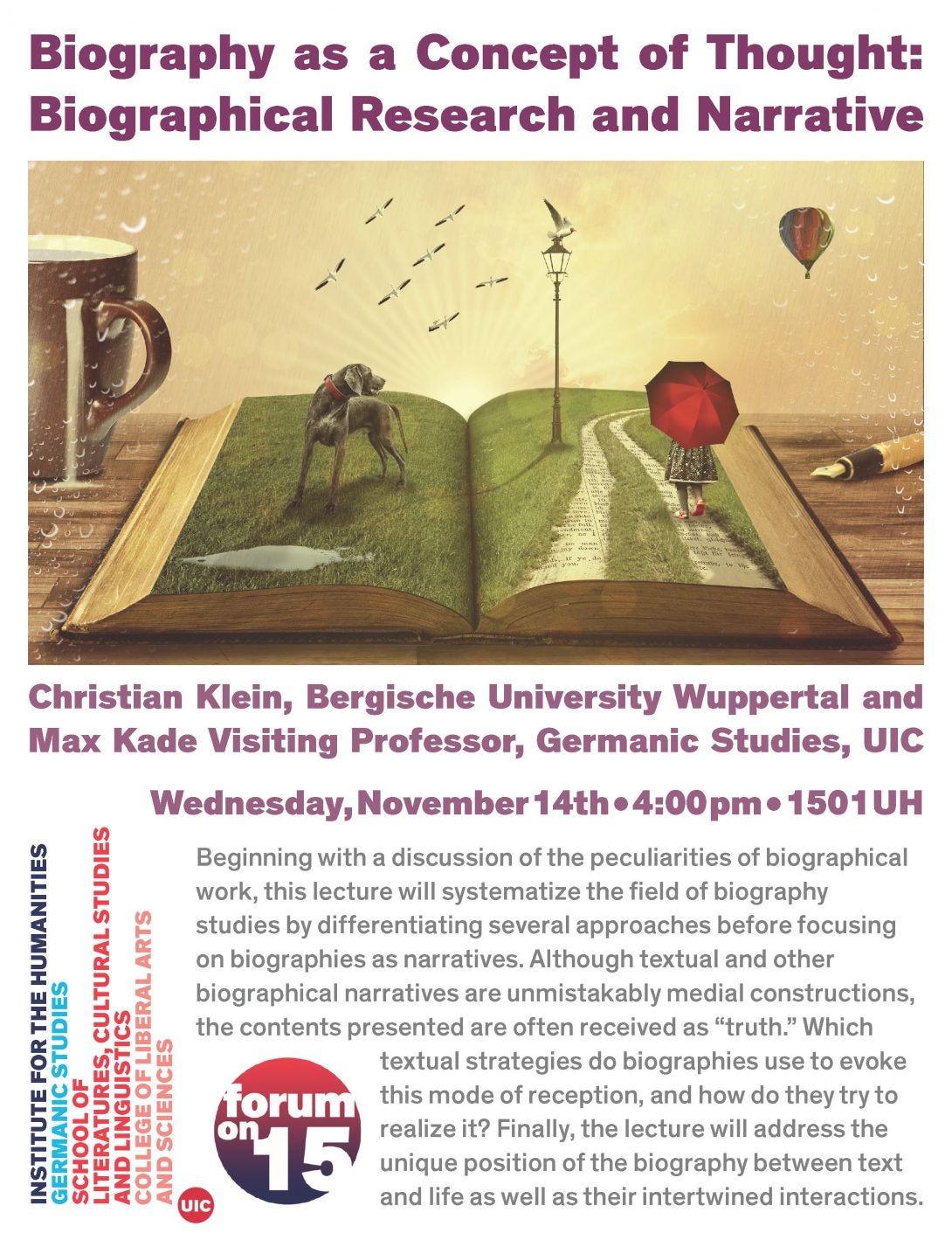 Christian Klein
Bergische University Wuppertal and Max Kade Visiting Professor, Germanic Studies, UIC
Wednesday, November 14th • 4:00 pm • 1501 UH
Beginning with a discussion of the peculiarities of biographical work, this lecture will systematize the field of biography studies by differentiating several approaches before focusing on biographies as narratives. Although textual and other biographical narratives are unmistakably medial constructions, the contents presented are often received as "truth." Which textual strategies do biographies use to evoke this mode of reception, and how do they try to realize it? Finally, the lecture will address the unique position of the biography between text and life as well as their intertwined interactions.
Sponsored by:
Germanic Studies
Institute for the Humanities
School of Literatures, Cultural Studies and Linguistics
Belief, truth, and dissonance: The role of bilingualism on the evaluation of socio-political ideologies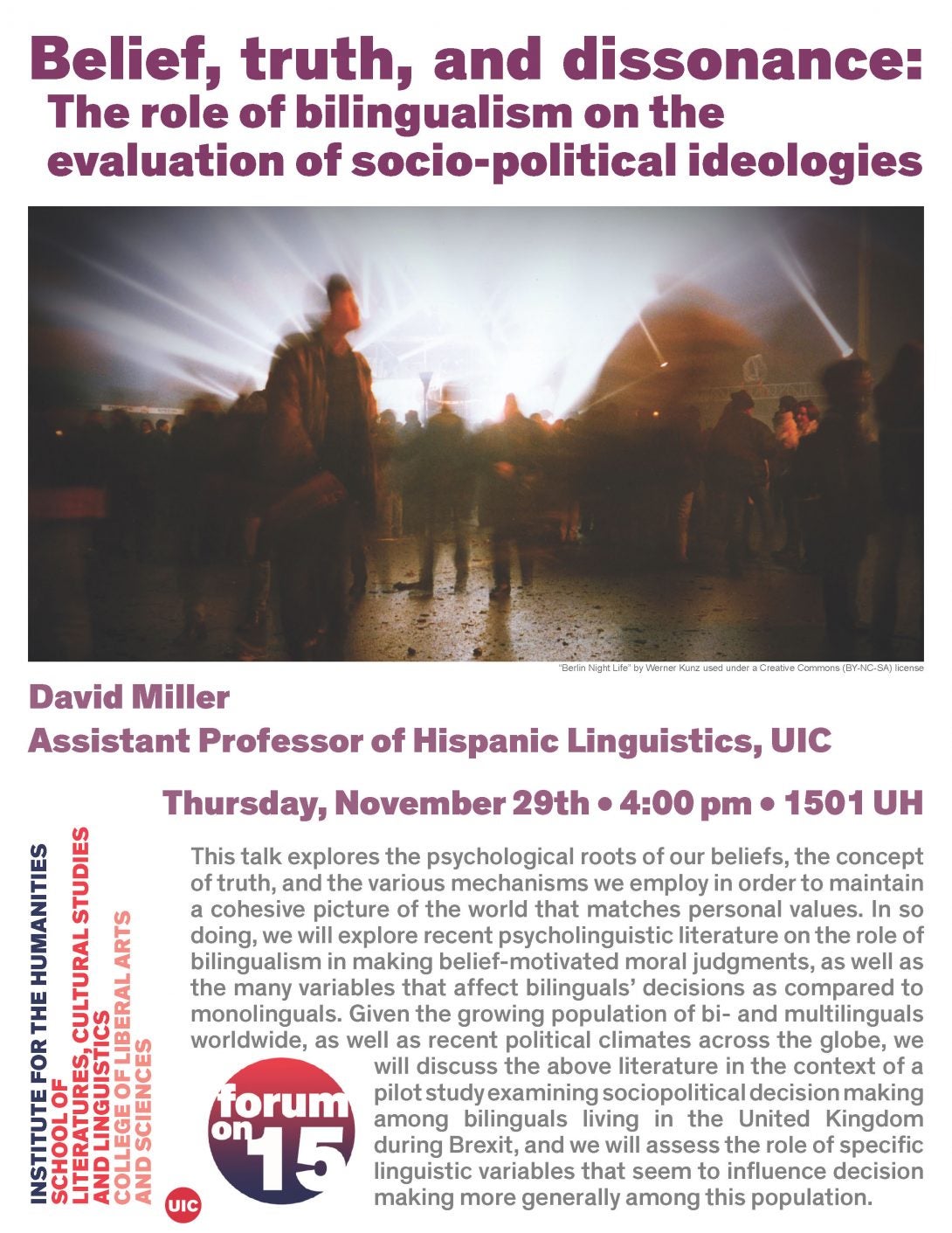 David Miller
Assistant Professor of Hispanic Linguistics, UIC
Thursday, November 29th • 4:00 pm • 1501 UH
This talk explores the psychological roots of our beliefs, the concept of truth, and the various mechanisms we employ in order to maintain a cohesive picture of the world that matches personal values. In so doing, we will explore recent psycholinguistic literature on the role of bilingualism in making belief-motivated moral judgments, as well as the many variables that affect bilinguals' decisions as compared to monolinguals. Given the growing population of bi- and multilinguals worldwide, as well as recent political climates across the globe, we will discuss the above literature in the context of a pilot study examining sociopolitical decision making among bilinguals living in the United Kingdom during Brexit, and we will assess the role of specific linguistic variables that seem to influence decision making more generally among this population.
Sponsored by:
Institute for the Humanities
School of Literatures, Cultural Studies and Linguistics
Shakespeare's Bohemia: Terror and Tolerance in Early Modern Europe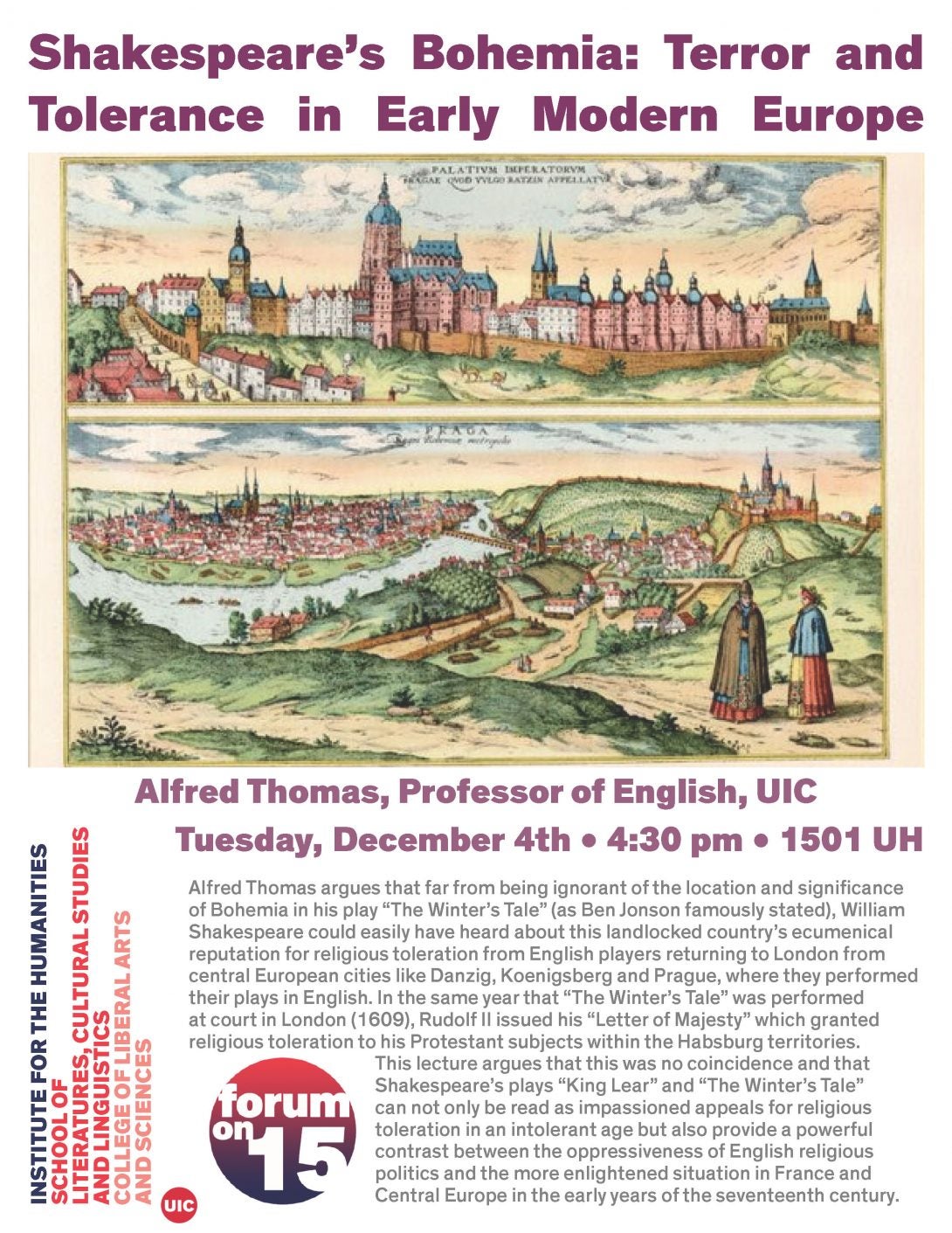 Jenifer Presto
Alfred Thomas, Professor of English, UIC
Tuesday, December 4th • 4:30 pm • 1501 UH
Alfred Thomas argues that far from being ignorant of the location and significance of Bohemia in his play "The Winter's Tale" (as Ben Jonson famously stated), William Shakespeare could easily have heard about this landlocked country's ecumenical reputation for religious toleration from English players returning to London from central European cities like Danzig, Koenigsberg and Prague, where they performed their plays in English. In the same year that "The Winter's Tale" was performed at court in London (1609), Rudolf II issued his "Letter of Majesty" which granted religious toleration to his Protestant subjects within the Habsburg territories. This lecture argues that this was no coincidence and that Shakespeare's plays "King Lear" and "The Winter's Tale" can not only be read as impassioned appeals for religious toleration in an intolerant age but also provide a powerful contrast between the oppressiveness of English religious politics and the more enlightened situation in France and Central Europe in the early years of the seventeenth century.
Sponsored by:
Institute for the Humanities
School of Literatures, Cultural Studies and Linguistics
Sissi/Xixi/茜茜: How An Austrian Empress Becomes the Princess of Communist China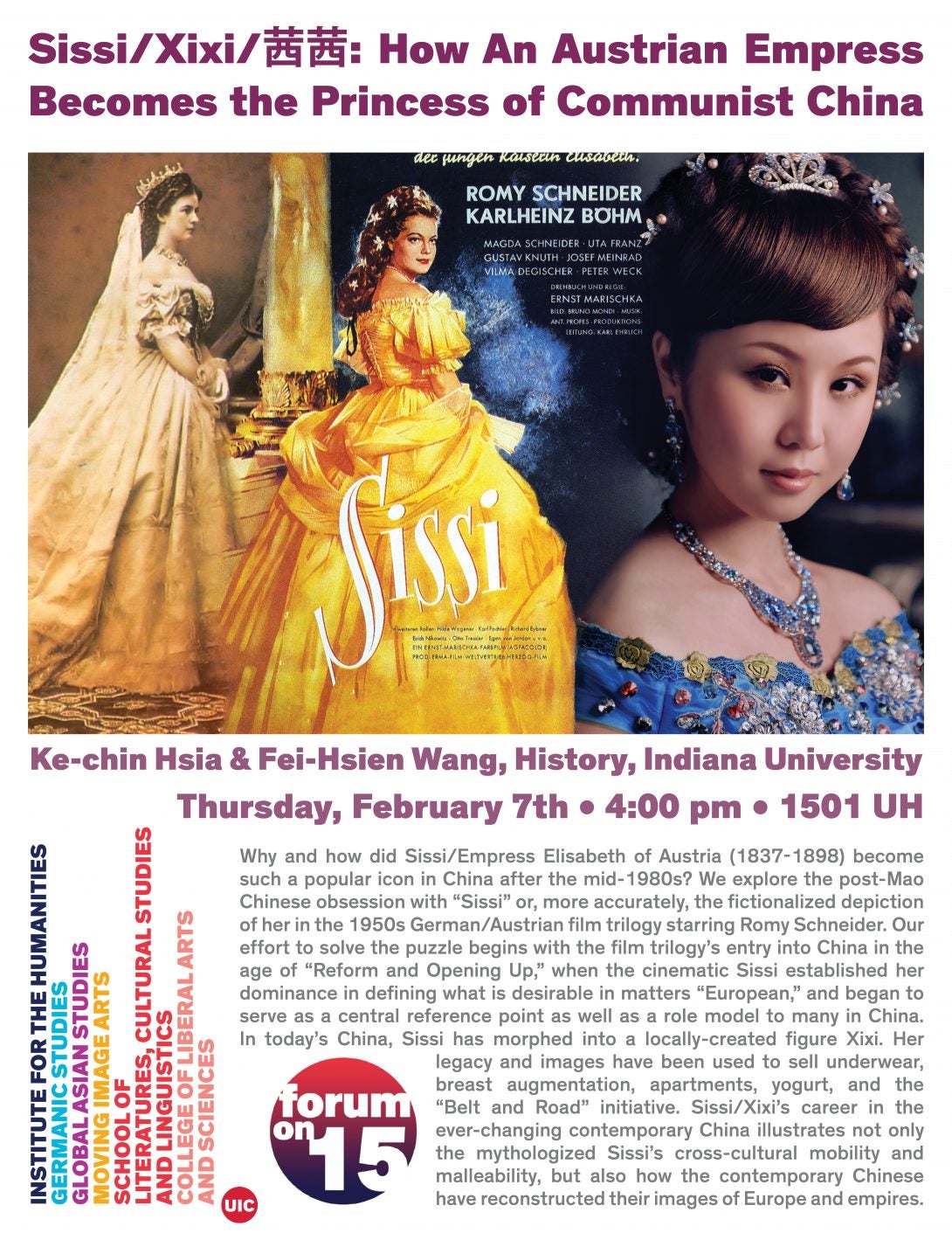 Ke-chin Hsia & Fei-Hsien Wang
History
Indiana University
Thursday, February 7th • 4:00 pm • 1501 UH
Why and how did Sissi/Empress Elisabeth of Austria (1837-1898) become such a popular icon in China after the mid-1980s? We explore the post-Mao Chinese obsession with "Sissi" or, more accurately, the fictionalized depiction of her in the 1950s German/Austrian film trilogy starring Romy Schneider. Our effort to solve the puzzle begins with the film trilogy's entry into China in the age of "Reform and Opening Up," when the cinematic Sissi established her dominance in defining what is desirable in matters "European," and began to serve as a central reference point as well as a role model to many in China. In today's China, Sissi has morphed into a locally-created figure Xixi. Her legacy and images have been used to sell underwear, breast augmentation, apartments, yogurt, and the "Belt and Road" initiative. Sissi/Xixi's career in the ever-changing contemporary China illustrates not only the mythologized Sissi's cross-cultural mobility and malleability, but also how the contemporary Chinese have reconstructed their images of Europe and empires.
Sponsored by:
Institute for the Humanities
Germanic Studies
Global Asian Studies
Moving Image Arts
School of Literatures, Cultural Studies and Linguistics
Alfonso Cuarón's Roma: Critique from the Margins, or the Marginalization of Critique?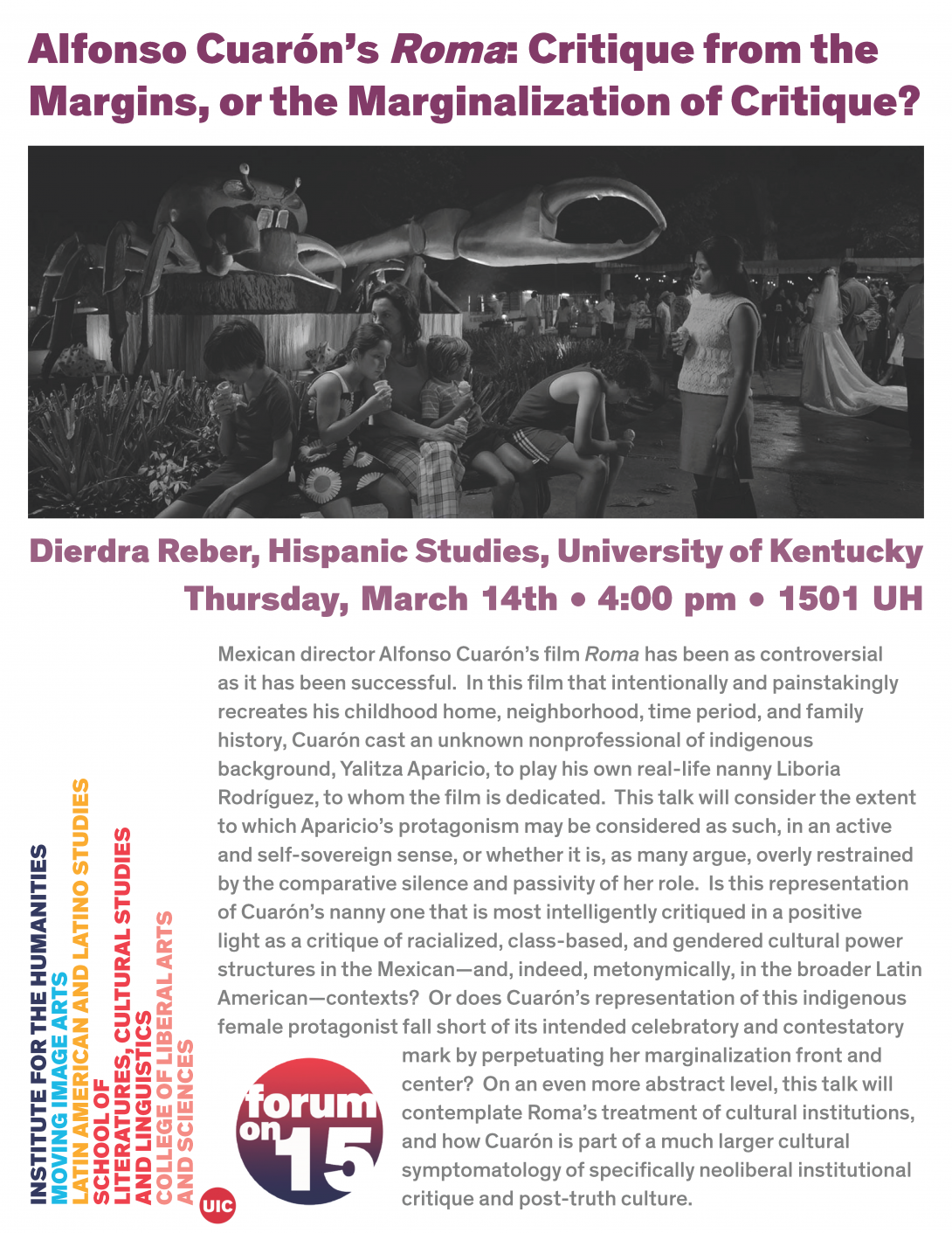 Dierdra Reber
Hispanic Studies
University of Kentucky
Thursday, March 14th • 4:00 pm • 1501 UH
Mexican director Alfonso Cuarón's film Roma has been as controversial as it has been successful. In this film that intentionally and painstakingly recreates his childhood home, neighborhood, time period, and family history, Cuarón cast an unknown nonprofessional of indigenous background, Yalitza Aparicio, to play his own real-life nanny Liboria Rodríguez, to whom the film is dedicated. This talk will consider the extent to which Aparicio's protagonism may be considered as such, in an active and self-sovereign sense, or whether it is, as many argue, overly restrained by the comparative silence and passivity of her role. Is this representation of Cuarón's nanny one that is most intelligently critiqued in a positive light as a critique of racialized, class-based, and gendered cultural power structures in the Mexican—and, indeed, metonymically, in the broader Latin American—contexts? Or does Cuarón's representation of this indigenous female protagonist fall short of its intended celebratory and contestatory mark by perpetuating her marginalization front and center? On an even more abstract level, this talk will contemplate Roma's treatment of cultural institutions, and how Cuarón is part of a much larger cultural symptomatology of specifically neoliberal institutional critique and post-truth culture.
Sponsored by:
Institute for the Humanities
Moving Image Arts
Latin American and
School of Literatures, Cultural Studies and Linguistics
Inter-Active Histories: Judaism, Christianity, Islam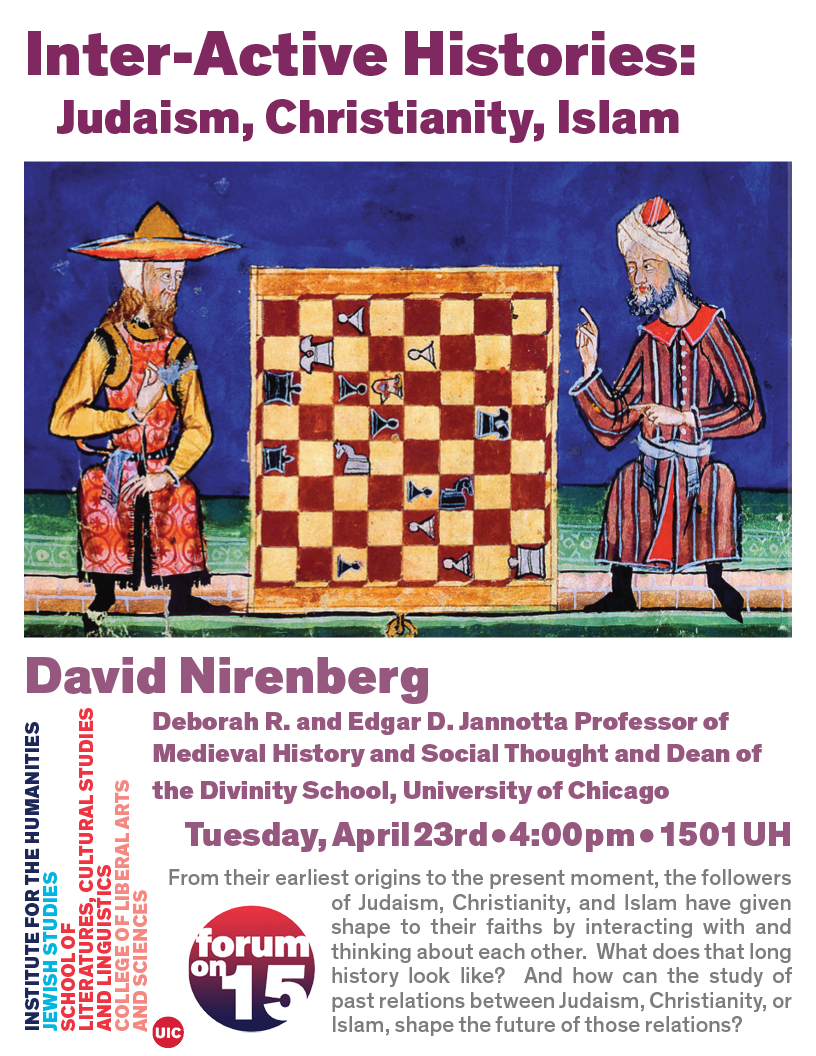 David Nirenberg
Deborah R. and Edgar D. Jannotta Professor of Medieval History and Social Thought and Dean of the Divinity School
University of Chicago
Tuesday, April 23rd • 4:00 pm • 1501 UH
From their earliest origins to the present moment, the followers of Judaism, Christianity, and Islam have given shape to their faiths by interacting with and thinking about each other. What does that long history look like? And how can the study of past relations between Judaism, Christianity, or Islam, shape the future of those relations?
Sponsored by:
Institute for the Humanities
Jewish Studies
School of Literatures, Cultural Studies and Linguistics