2017-2018 Talks
Heterotopias in German Literary Exoticism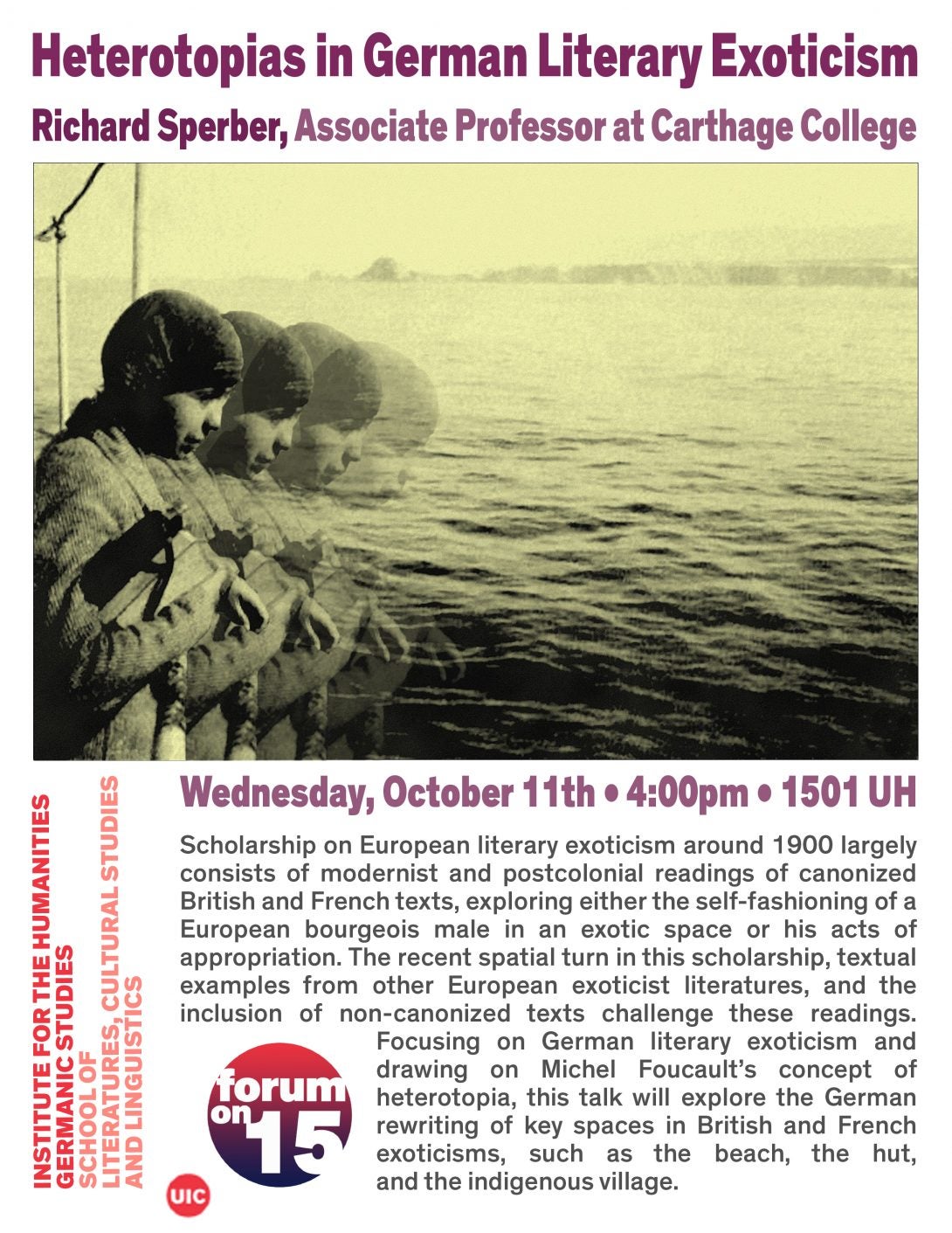 Richard Sperber
Associate Professor
Carthage College
Wednesday, October 11th • 4:00pm • 1501 UH
Scholarship on European literary exoticism around 1900 largely consists of modernist and postcolonial readings of canonized British and French texts, exploring either the self-fashioning of a European bourgeois male in an exotic space or his acts of appropriation. The recent spatial turn in this scholarship, textual examples from other European exoticist literatures, and the inclusion of non-canonized texts challenge these readings. Focusing on German literary exoticism and drawing on Michel Foucault's concept of heterotopia, this talk will explore the German rewriting of key spaces in British and French exoticisms, such as the beach, the hut, and the indigenous village.
Sponsored by:
Germanic Studies
Institute for the Humanities
School of Literatures, Cultural Studies and Linguistics
The Way We Were: Memory and Identity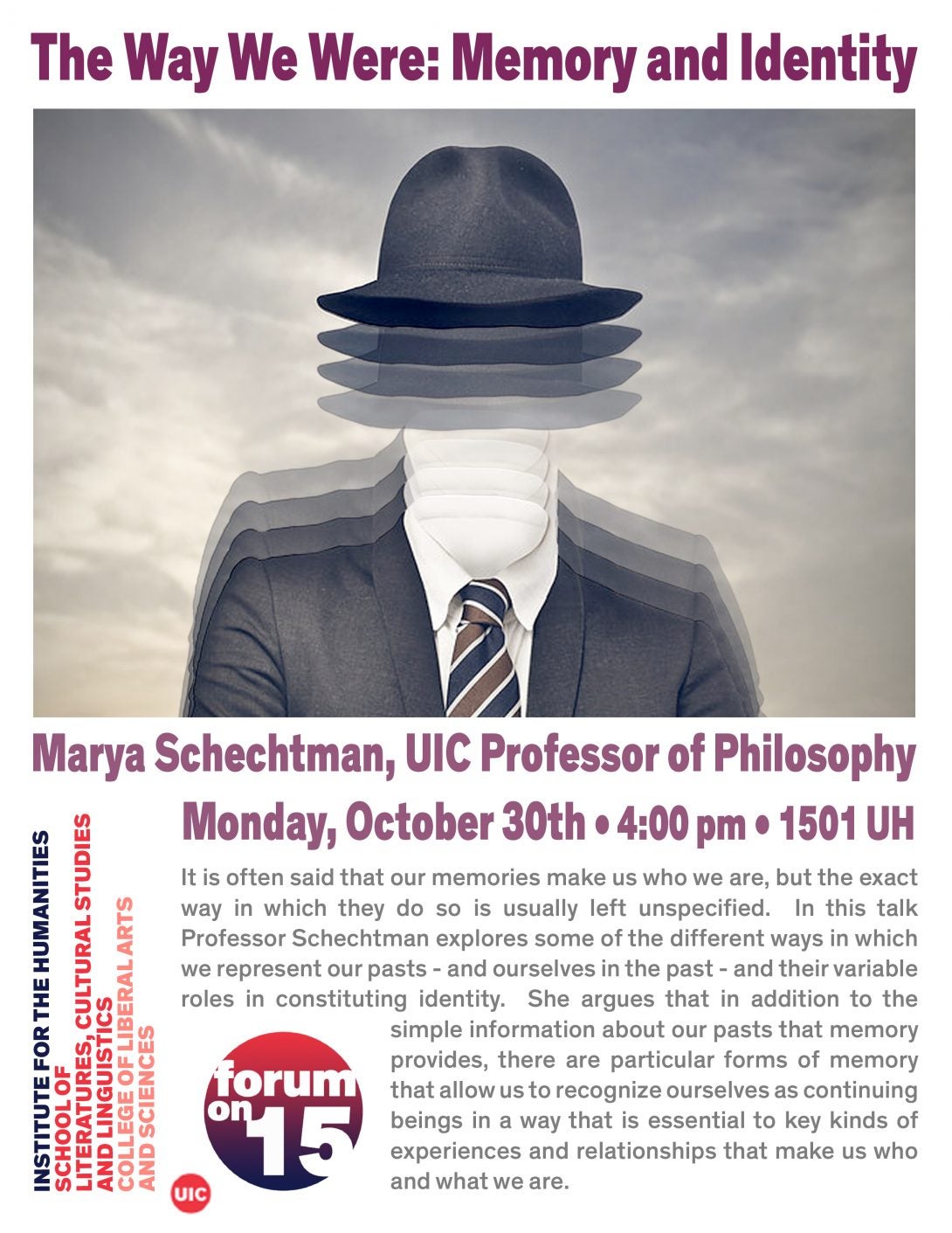 Marya Schechtman
UIC Professor of Philosophy
Monday, October 30th • 4:00 pm • 1501 UH
It is often said that our memories make us who we are, but the exact way in which they do so is usually left unspecified. In this talk Professor Schechtman explores some of the different ways in which we represent our pasts – and ourselves in the past – and their variable roles in constituting identity. She argues that in addition to the simple information about our pasts that memory provides, there are particular forms of memory that allow us to recognize ourselves as continuing beings in a way that is essential to key kinds of experiences and relationships that make us who and what we are.
Sponsored by:
Institute for the Humanities
School of Literatures, Cultural Studies and Linguistics
Back to the Mines: Extraction Narratives in Russian Modernism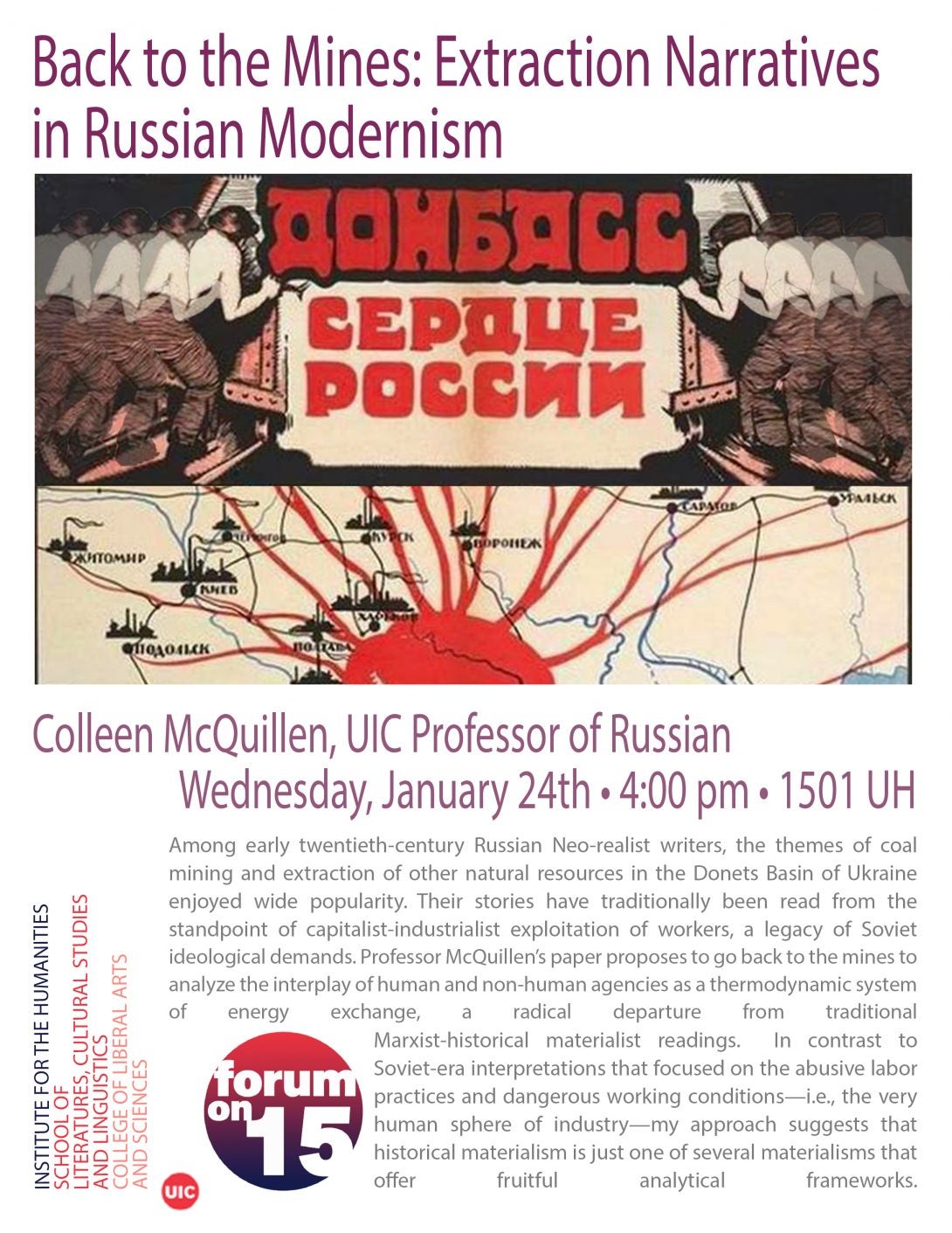 Colleen McQuillen
UIC Professor of Russian
Wednesday, January 24th • 4:00 pm • 1501 UH
Among early twentieth-century Russian Neo-realist writers, the themes of coal mining and extraction of other natural resources in the Donets Basin of Ukraine enjoyed wide popularity. Their stories have traditionally been read from the standpoint of capitalist-industrialist exploitation of workers, a legacy of Soviet ideological demands. Professor McQuillen's paper proposes to go back to the mines to analyze the interplay of human and non-human agencies as a thermodynamic system of energy exchange, a radical departure from traditional Marxist-historical materialist readings. In contrast to Soviet-era interpretations that focused on the abusive labor practices and dangerous working conditions—i.e., the very human sphere of industry—my approach suggests that historical materialism is just one of several materialisms that offer fruitful analytical frameworks.
Sponsored by:
Institute for the Humanities
School of Literatures, Cultural Studies, and Linguistics
Queer Celebrities: Representation of nationality and European-ness at the Eurovision Song Contest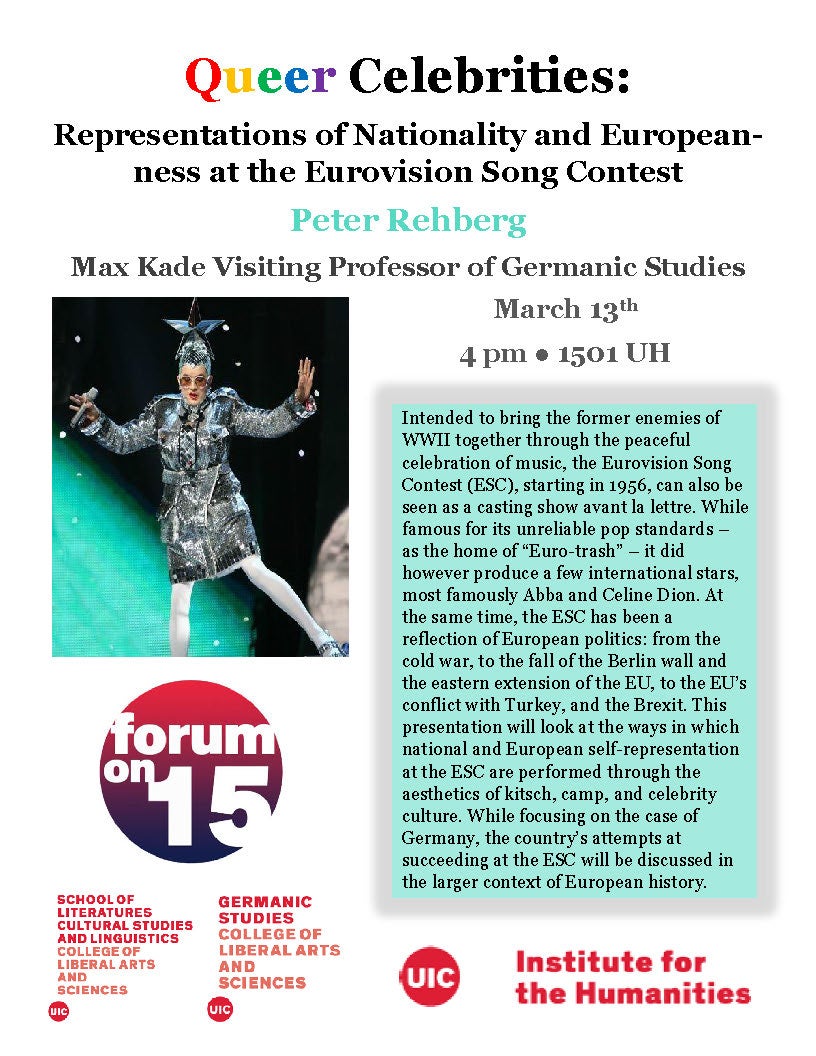 Peter Rehberg
Max Kade Visiting Professor, Germanic Studies
Tuesday, March 13 • 4 pm • 1501 UH
Intended to bring the former enemies of WWII together through the peaceful celebration of music, the Eurovision Song Contest (ESC), starting in 1956, can also be seen as a casting show avant la lettre. While famous for its unreliable pop standards – as the home of "Euro-trash" – it did however produce a few international stars, most famously Abba and Celine Dion. At the same time, the ESC has been a reflection of European politics: from the cold war, to the fall of the Berlin wall and the eastern extension of the EU, to the EU's conflict with Turkey, and the Brexit. This presentation will look at the ways in which national and European self-representation at the ESC are performed through the aesthetics of kitsch, camp, and celebrity culture. While focusing on the case of Germany, the country's attempts at succeeding at the ESC will be discussed in the larger context of European history.
Sponsored by:
School of Literatures, Cultural Studies and Linguistics