2016-2017 Talks
The Plague in Athens and Murnau's Nosferatu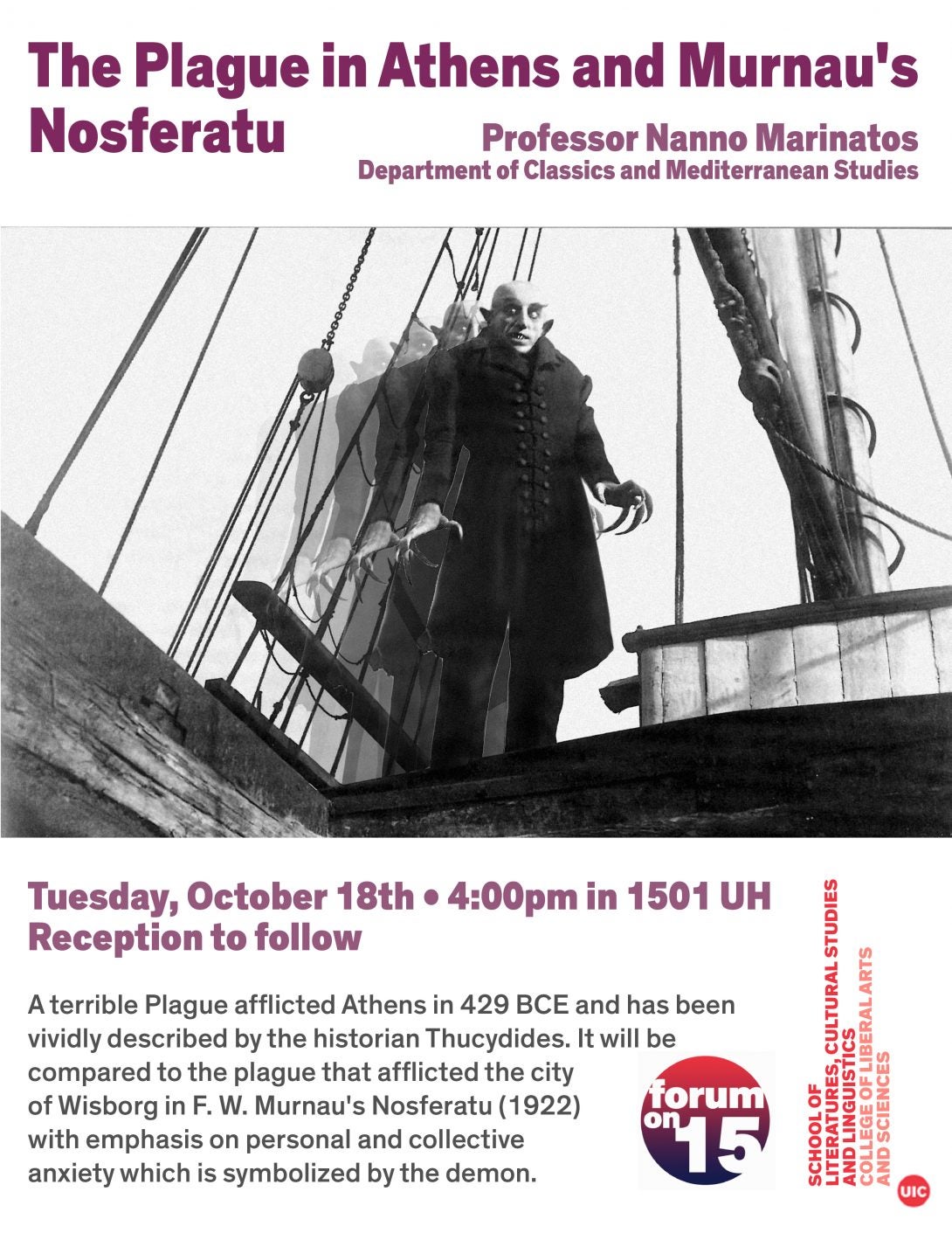 Professor Nanno Marinatos
Department of Classics and Mediterranean Studies, UIC
Tuesday, October 18th • 4:00pm • 1501 UH
A terrible Plague afflicted Athens in 429 BCE and has been vividly described by the historian Thucydides. It will be compared to the plague that afflicted the city of Wisborg in F. W. Murnau's Nosferatu (1922) with emphasis on personal and collective anxiety which is symbolized by the demon.
Sponsored by:
School of Literatures, Cultural Studies and Linguistics
The Donkey and Diplomacy in La Fontaine's The Power of Fables
Professor Ellen McClure
Department of French and Francophone Studies, UIC
Wednesday, November 16th • 3:00pm • 1501 UH
La Fontaine's well-known fable, in which he retells Aesop's Orator Demades, is dedicated to Louis XIV's ambassador to England during the Dutch War. By reading the fable through the lens of diplomatic theory and practice, I show how La Fontaine subtly undermines the foundations of divine right monarchy, all while pointing to the implicitly tragic impossibility of using sentient beings- whether diplomats or donkeys- as carriers.
Sponsored by:
School of Literatures, Cultural Studies, and Linguistics
Queer Machines and Sexual Contracts: The Girl with the Dragon Tattoo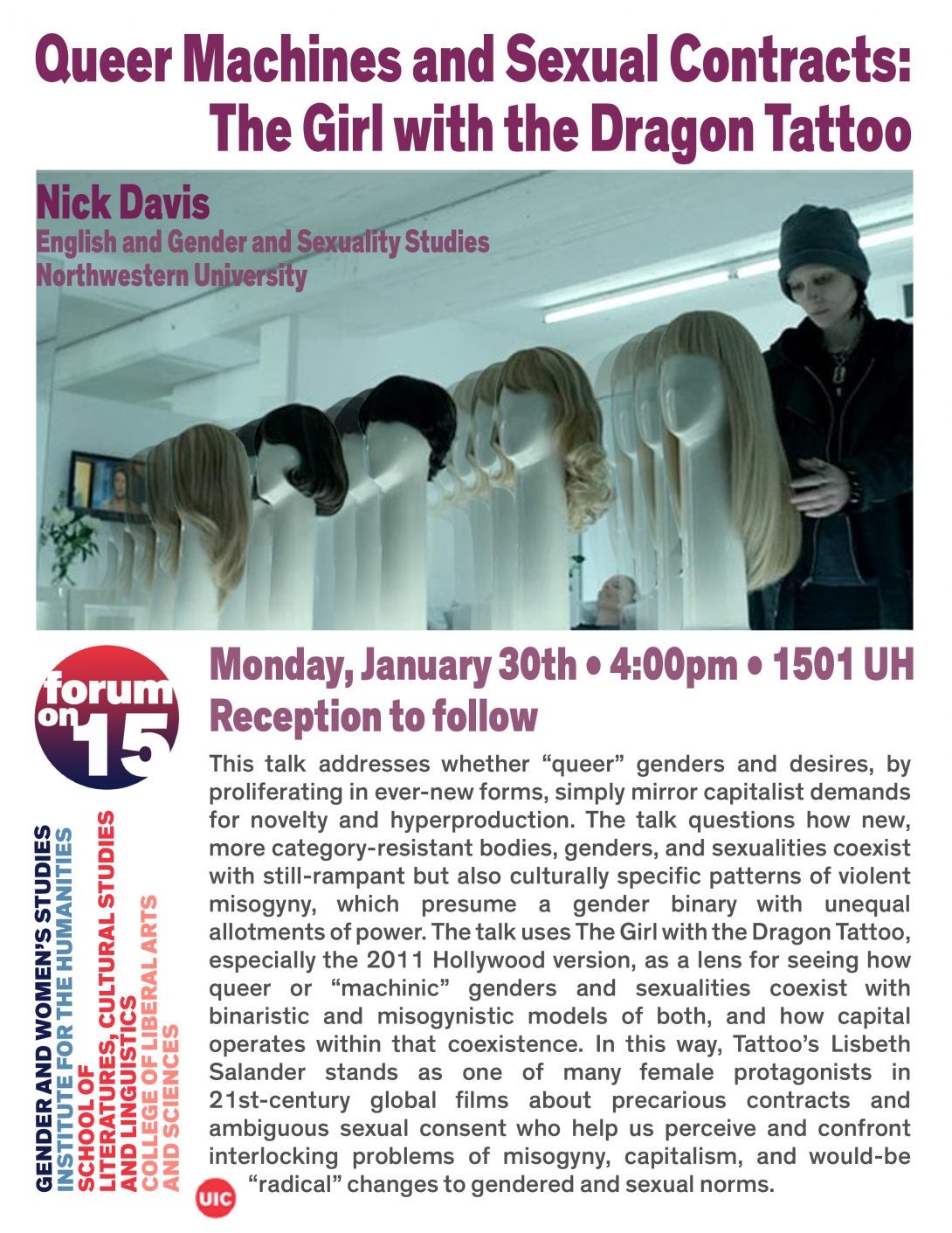 Nick Davis
English and Gender and Sexuality Studies
Northwestern University
Monday, January 30th • 4:00pm • 1501 UH
This talk addresses whether "queer" genders and desires, by proliferating in ever-new forms, simply mirror capitalist demands for novelty and hyperproduction. The talk questions how new, more category-resistant bodies, genders, and sexualities coexist with still-rampant but also culturally specific patterns of violent misogyny, which presume a gender binary with unequal allotments of power. The talk uses The Girl with the Dragon Tattoo, especially the 2011 Hollywood version, as a lens for seeing how queer or "machinic" genders and sexualities coexist with binaristic and misogynistic models of both, and how capital operates within that coexistence. In this way, Tattoo's Lisbeth Salander stands as one of many female protagonists in 21st-century global films about precarious contracts and ambiguous sexual consent who help us perceive and confront interlocking problems of misogyny, capitalism, and would-be "radical" changes to gendered and sexual norms.
Sponsored by:
Gender and Women's Studies
Institute for the Humanities
School of Literatures, Cultural Studies and Linguistics
Linguistic Erasures and Brownface: Span(gl)ish in Mainstream Television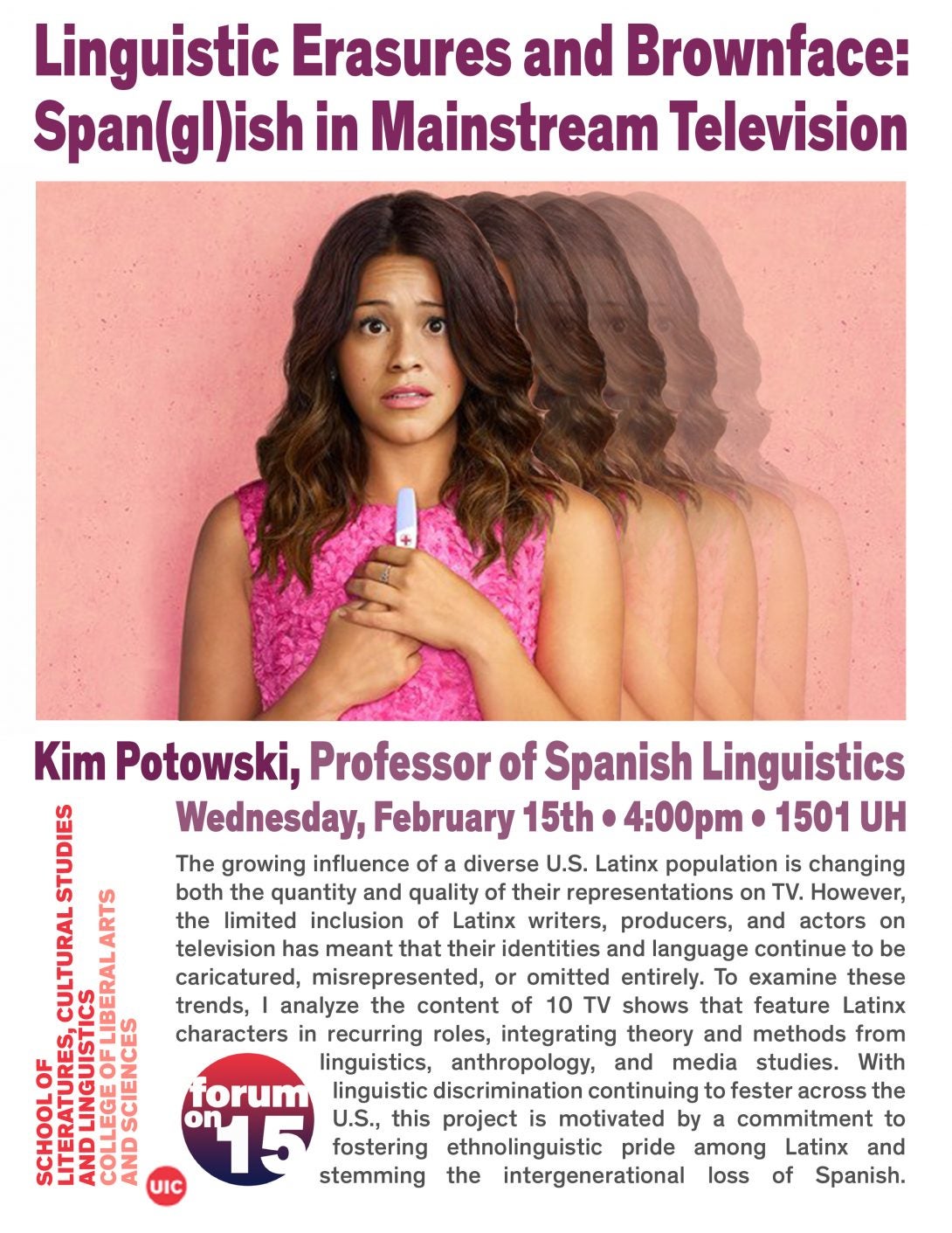 Kim Potowski
Professor of Spanish Linguistics, UIC
Wednesday, February 15th • 4:00pm • 1501 UH
The growing influence of a diverse U.S. Latinx population is changing both the quantity and quality of their representations on TV. However, the limited inclusion of Latinx writers, producers, and actors on television has meant that their identities and language continue to be caricatured, misrepresented, or omitted entirely. To examine these trends, I analyze the content of 10 TV shows that feature Latinx characters in recurring roles, integrating theory and methods from linguistics, anthropology, and media studies. With linguistic discrimination continuing to fester across the U.S., this project is motivated by a commitment to fostering ethnolinguistic pride among Latinx and stemming the intergenerational loss of Spanish.
Sponsored by:
School of Literatures, Cultural Studies, and Linguistics
The Fast and Loose and the Furioso: Getting in the Mood with Orlando in Ariosto, Greene, Shakespeare… and Woolf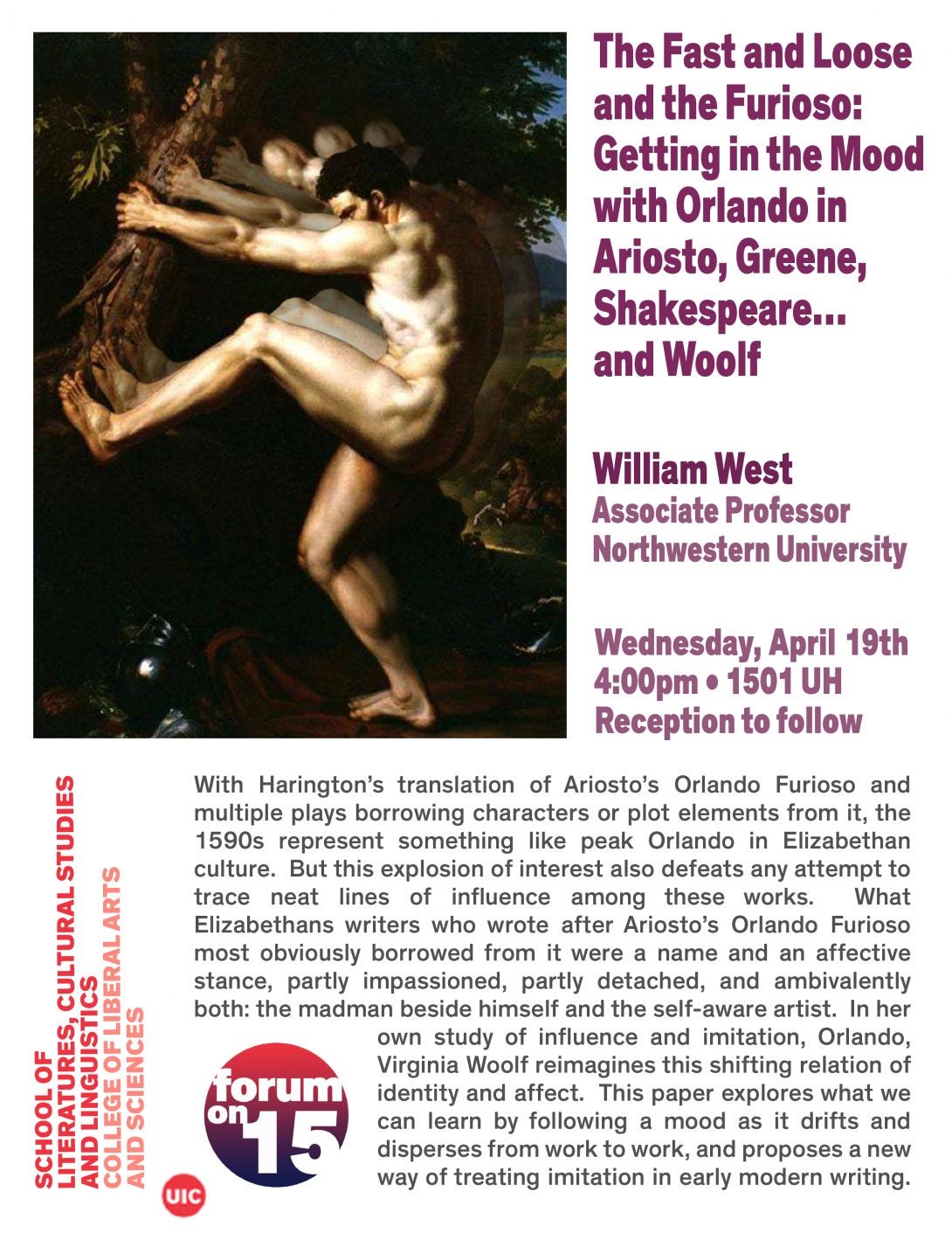 William West
Associate Professor
Northwestern University
Wednesday, April 19th • 4:00pm • 1501 UH
With Harington's translation of Ariosto's Orlando Furioso and multiple plays borrowing characters or plot elements from it, the 1590s represent something like peak Orlando in Elizabethan culture. But this explosion of interest also defeats any attempt to trace neat lines of influence among these works. What Elizabethans writers who wrote after Ariosto's Orlando Furioso most obviously borrowed from it were a name and an affective stance, partly impassioned, partly detached, and ambivalently both: the madman beside himself and the self-aware artist. In her own study of influence and imitation, Orlando, Virginia Woolf reimagines this shifting relation of identity and affect. This paper explores what we can learn by following a mood as it drifts and disperses from work to work, and proposes a new way of treating imitation in early modern writing.
Sponsored by:
School of Literatures, Cultural Studies and Linguistics