2014-2015 Talks
Memory in Mind, Literature, and Language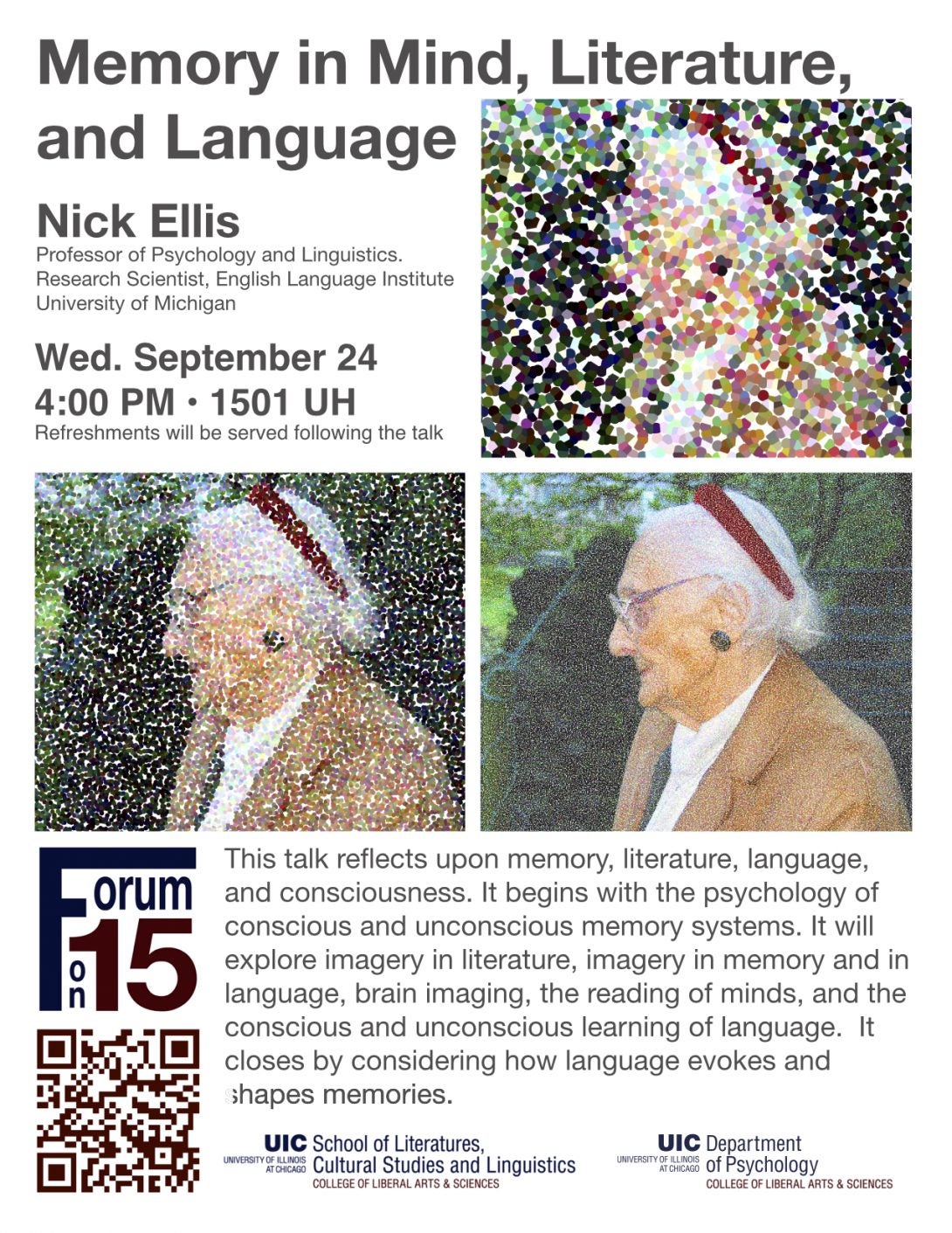 Nick Ellis
Professor of Psychology and Linguistics
Research Scientist, English Language Institute
University of Michigan
Wed. September 24 • 4:00 PM • 1501 UH
This talk reflects upon memory, literature, language, and consciousness. It begins with the psychology of conscious and unconscious memory systems. It will explore imagery in literature, imagery in memory and in language, brain imaging, the reading of minds, and the conscious and unconscious learning of language. It closes by considering how language evokes and shapes memories.
Sponsored by:
Department of Psychology
School of Literatures, Cultural Studies and Linguistics
Narrative Shock and Polish Memory Remaking in the Twenty-First Century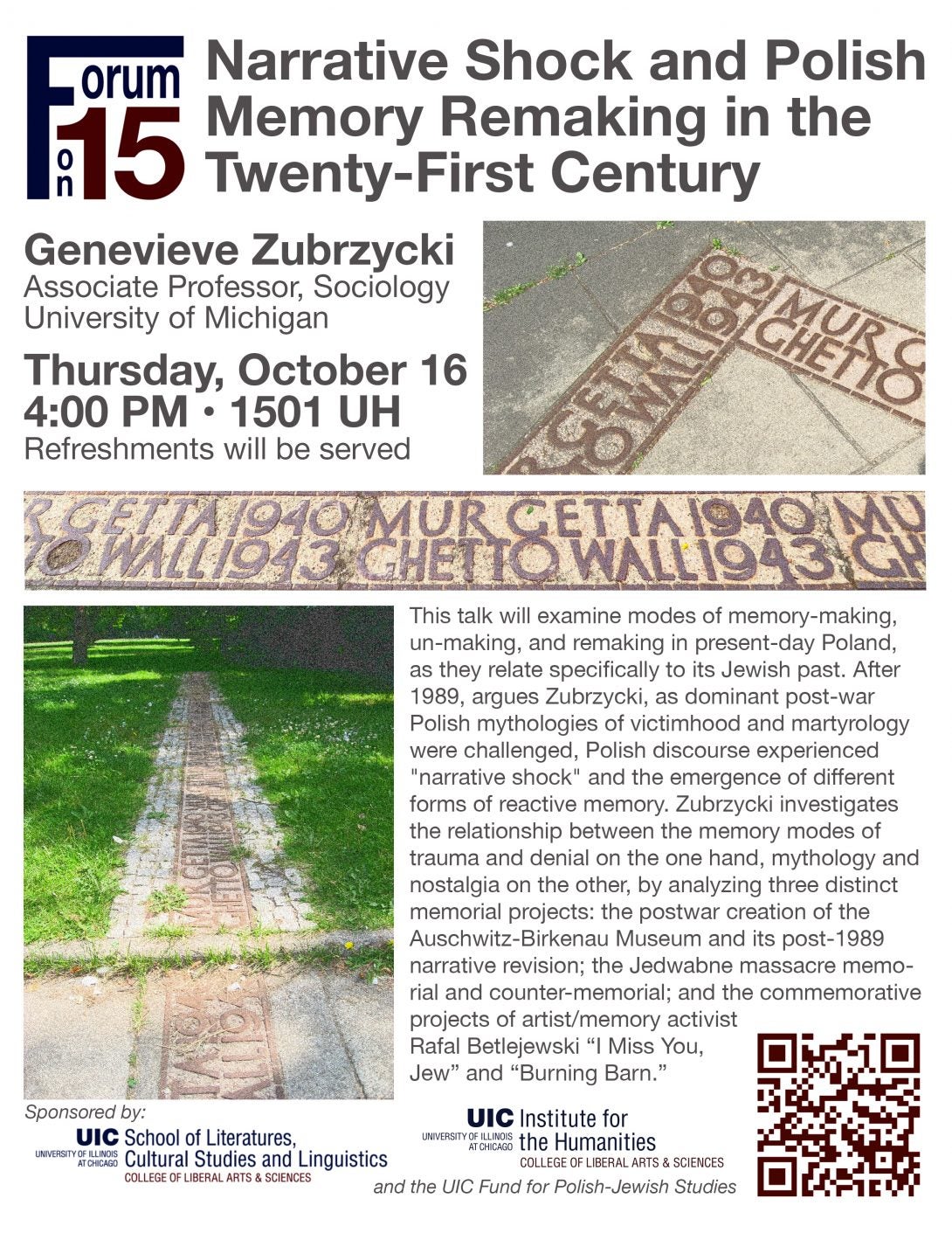 Genevieve Zubrzycki
Associate Professor, Sociology
University of Michigan
Thursday, October 16 • 4:00 PM • 1501 UH
This talk will examine modes of memory-making, un-making, and remaking in present-day Poland, as they relate specifically to its Jewish past. After 1989, argues Zubrzycki, as dominant post-war Polish mythologies of victimhood and martyrology were challenged, Polish discourse experienced "narrative shock" and the emergence of different forms of reactive memory. Zubrzycki investigates the relationship between the memory modes of trauma and denial on the one hand, mythology and nostalgia on the other, by analyzing three distinct memorial projects: the postwar creation of the Auschwitz-Birkenau Museum and its post-1989 narrative revision; the Jedwabne massacre memorial and counter-memorial; and the commemorative projects of artist/memory activist Rafal Betlejewski "I Miss You, Jew" and "Burning Barn."
Sponsored by:
School of Literatures, Cultural Studies and Linguistics
Institute for the Humanities
UIC Fund for Polish-Jewish Studies
Theater, War Memory, and Contemporary France: Staging the Vichy Years (1940-44) and the Algerian Conflict (1954-62)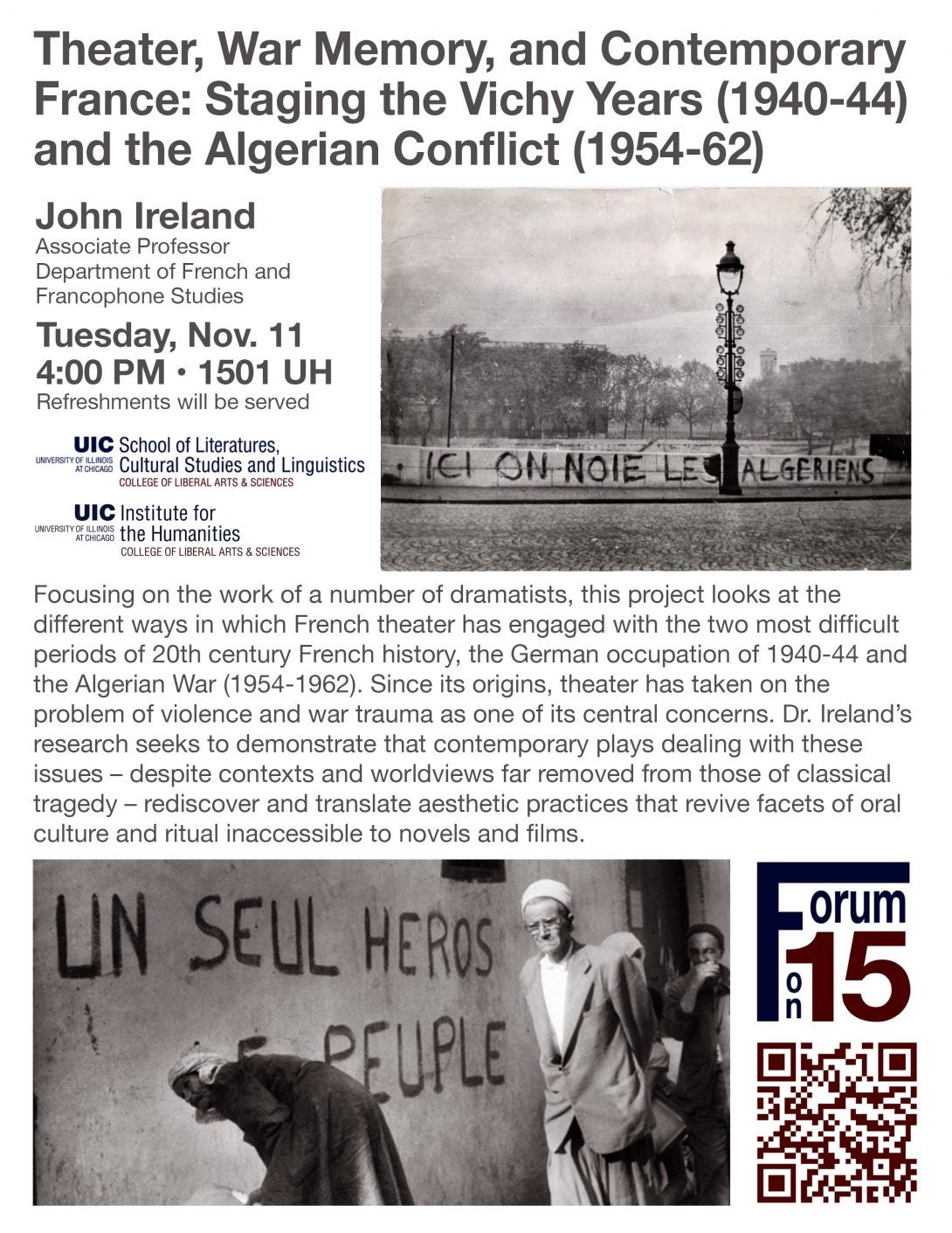 John Ireland
Associate Professor
Department of French and Francophone Studies, UIC
Tuesday, Nov. 11 • 4:00 PM • 1501 UH
Focusing on the work of a number of dramatists, this project looks at the different ways in which French theater has engaged with the two most difficult periods of 20th century French history, the German occupation of 1940-44 and the Algerian War (1954-1962). Since its origins, theater has taken on the problem of violence and war trauma as one of its central concerns. Dr. Ireland's research seeks to demonstrate that contemporary plays dealing with these issues – despite contexts and worldviews far removed from those of classical tragedy – rediscover and translate aesthetic practices that revive facets of oral culture and ritual inaccessible to novels and films.
Sponsored by:
Institute for the Humanities
School of Literatures, Cultural Studies and Linguistics
Uncanny Excavations: Khodasevich, Pompeii, and Remains of the Past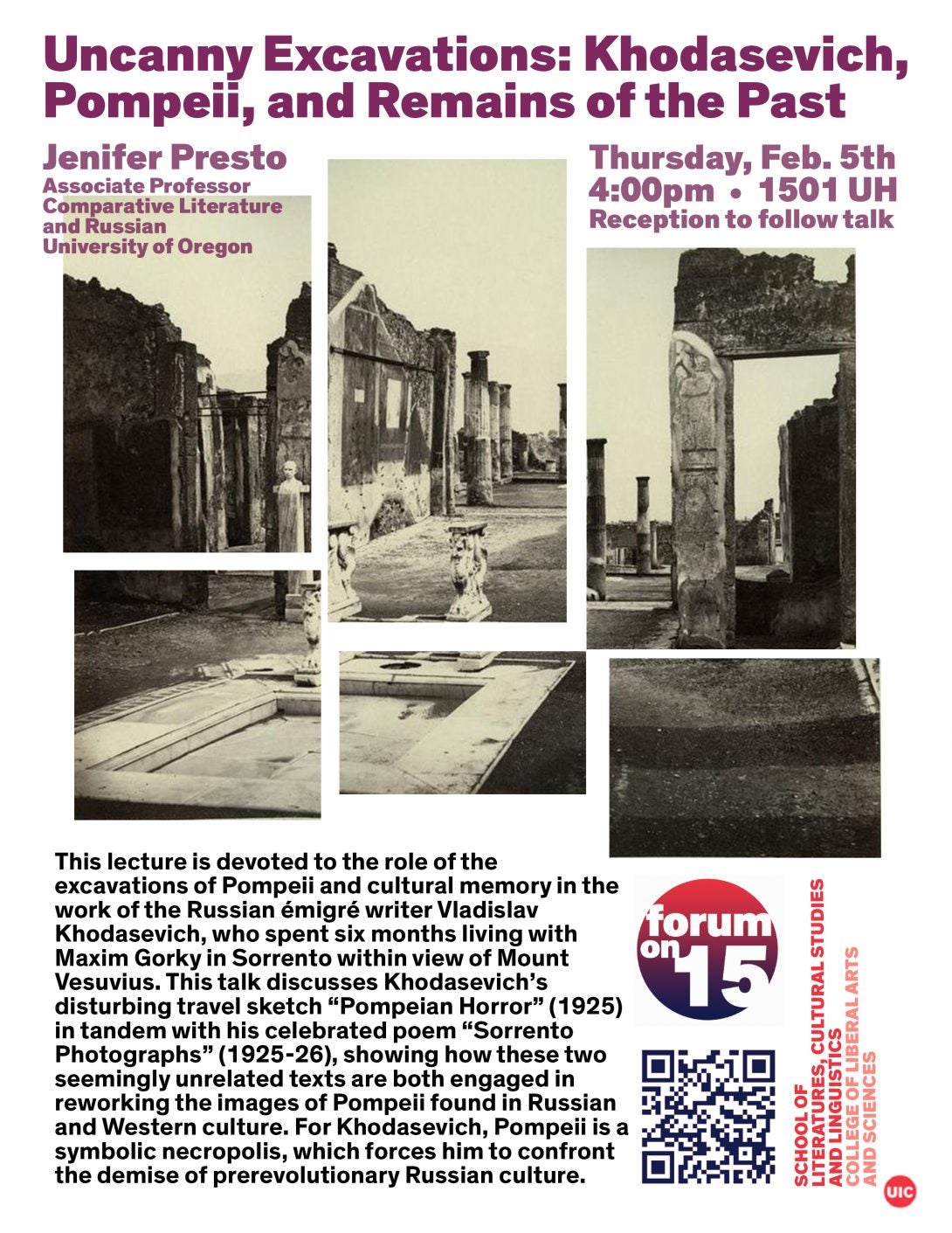 Jenifer Presto
Associate Professor Comparative Literature and Russian
University of Oregon
Thursday, Feb. 5th • 4:00pm • 1501 UH
This lecture is devoted to the role of the excavations of Pompeii and cultural memory in the work of the Russian émigré writer Vladislav Khodasevich, who spent six months living with Maxim Gorky in Sorrento within view of Mount Vesuvius. This talk discusses Khodasevich's disturbing travel sketch "Pompeian Horror" (1925) in tandem with his celebrated poem "Sorrento Photographs" (1925-26), showing how these two seemingly unrelated texts are both engaged in reworking the images of Pompeii found in Russian and Western culture. For Khodasevich, Pompeii is a symbolic necropolis, which forces him to confront the demise of prerevolutionary Russian culture.
Sponsored by:
School of Literatures, Cultural Studies and Linguistics
(Re)Moving the Heart: Temporality and Intrusion in María Zambrano, Jean Luc Nancy and Claire Denis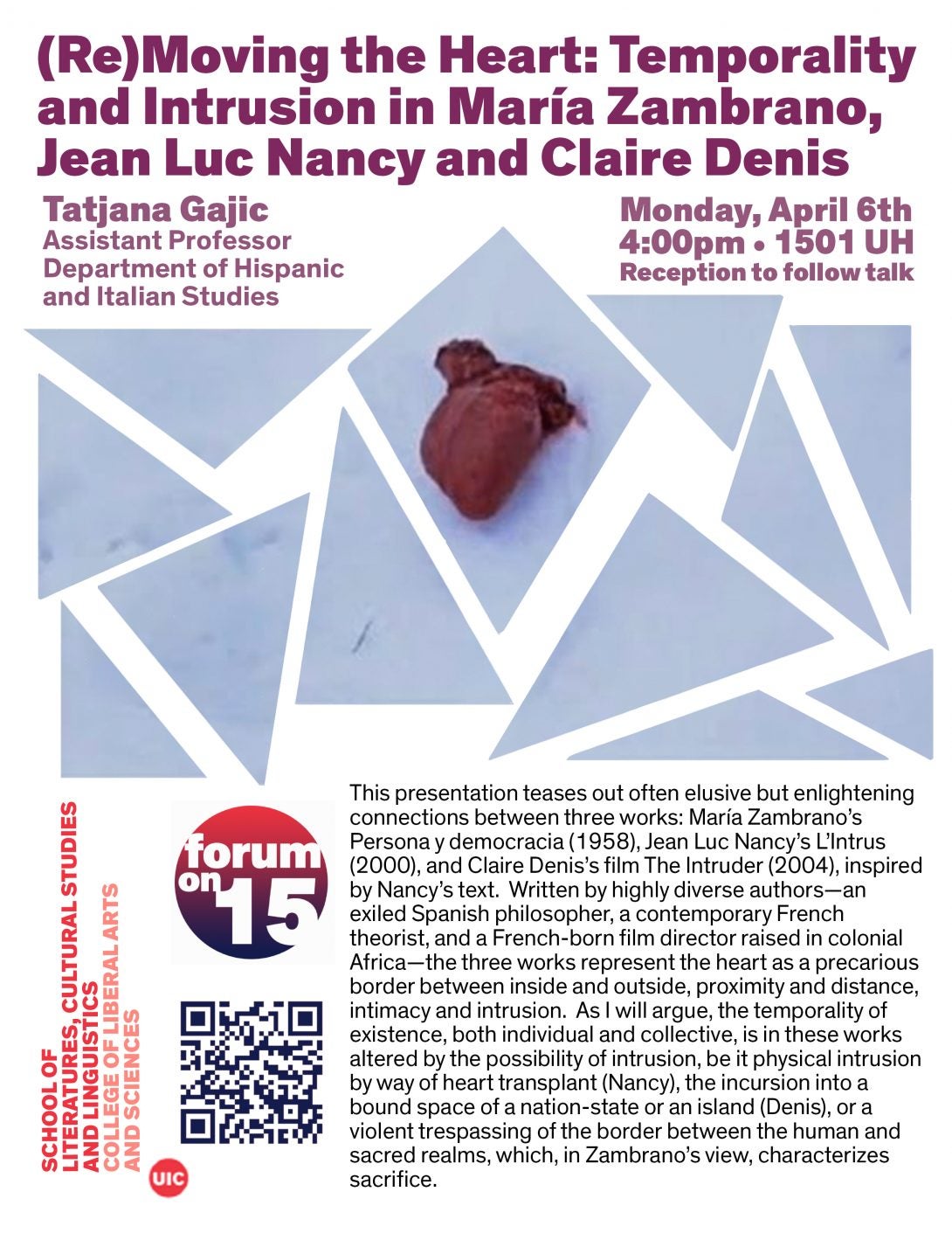 Tatjana Gajic
Assistant Professor
Department of Hispanic and Italian Studies, UIC
Monday, April 6th • 4:00pm • 1501 UH
This presentation teases out often elusive but enlightening connections between three works: María Zambrano's Persona y democracia (1958), Jean Luc Nancy's L'Intrus (2000), and Claire Denis's film The Intruder (2004), inspired by Nancy's text. Written by highly diverse authors—an exiled Spanish philosopher, a contemporary French theorist, and a French-born film director raised in colonial Africa—the three works represent the heart as a precarious border between inside and outside, proximity and distance, intimacy and intrusion. As I will argue, the temporality of existence, both individual and collective, is in these works altered by the possibility of intrusion, be it physical intrusion by way of heart transplant (Nancy), the incursion into a bound space of a nation-state or an island (Denis), or a violent trespassing of the border between the human and sacred realms, which, in Zambrano's view, characterizes sacrifice.
Sponsored by:
School of Literatures, Cultural Studies and Linguistics
Time, Nationhood, Survival Greek Jews in Auschwitz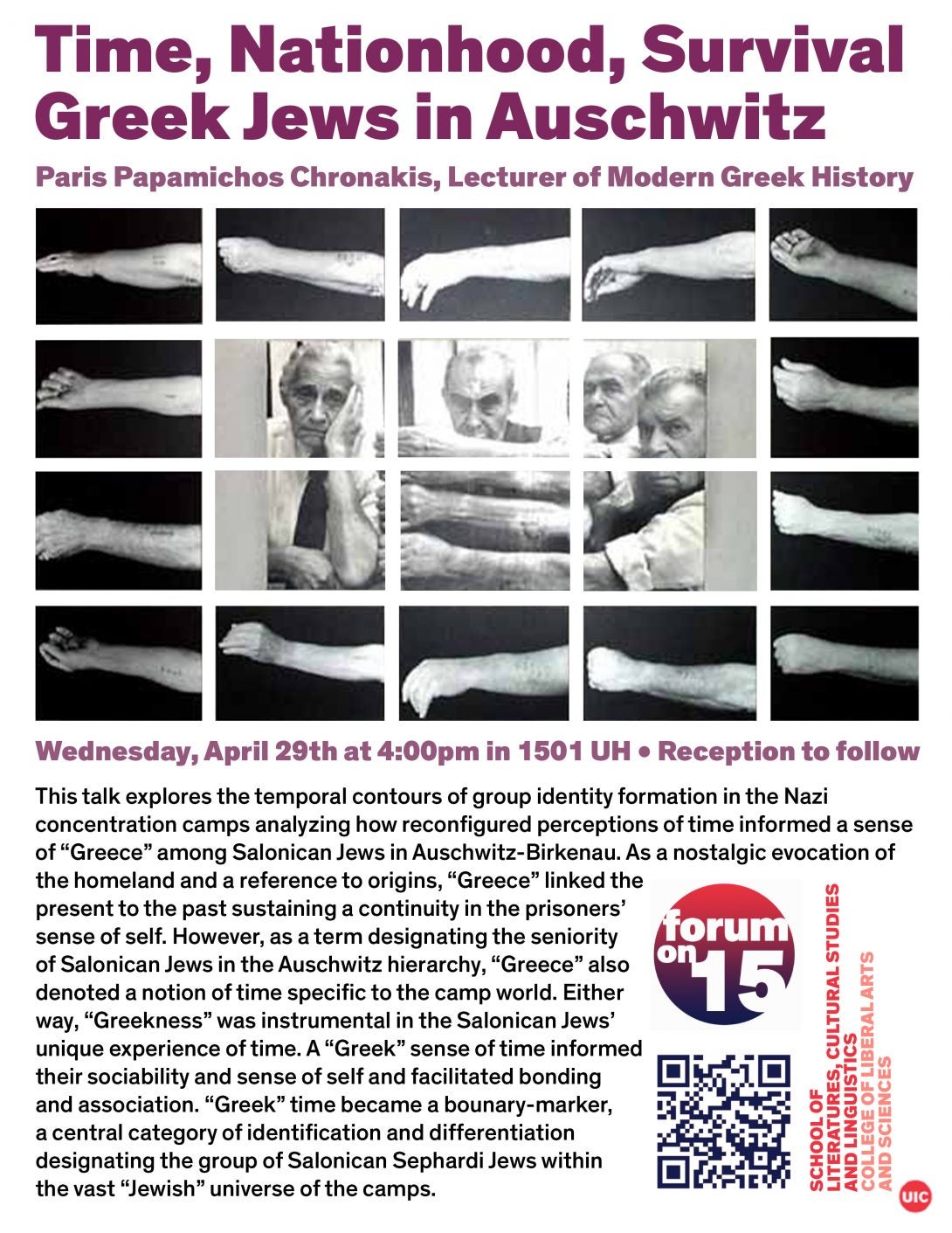 Paris Papamichos Chronakis
Lecturer of Modern Greek History, UIC
Wednesday, April 29th at 4:00pm in 1501 UH
This talk explores the temporal contours of group identity formation in the Nazi concentration camps analyzing how reconfigured perceptions of time informed a sense of "Greece" among Salonican Jews in Auschwitz-Birkenau. As a nostalgic evocation of the homeland and a reference to origins, "Greece" linked the present to the past sustaining a continuity in the prisoners' sense of self. However, as a term designating the seniority of Salonican Jews in the Auschwitz hierarchy, "Greece" also denoted a notion of time specific to the camp world. Either way, "Greekness" was instrumental in the Salonican Jews' unique experience of time. A "Greek" sense of time informed their sociability and sense of self and facilitated bonding and association. "Greek" time became a boundary-marker, a central category of identification and differentiation designating the group of Salonican Sephardi Jews within the vast "Jewish" universe of the camps.
Sponsored by:
School of Literatures, Cultural Studies and Linguistics