2013-2014 Talks
Essences and Props: Memory and Forgetting from Plato to Google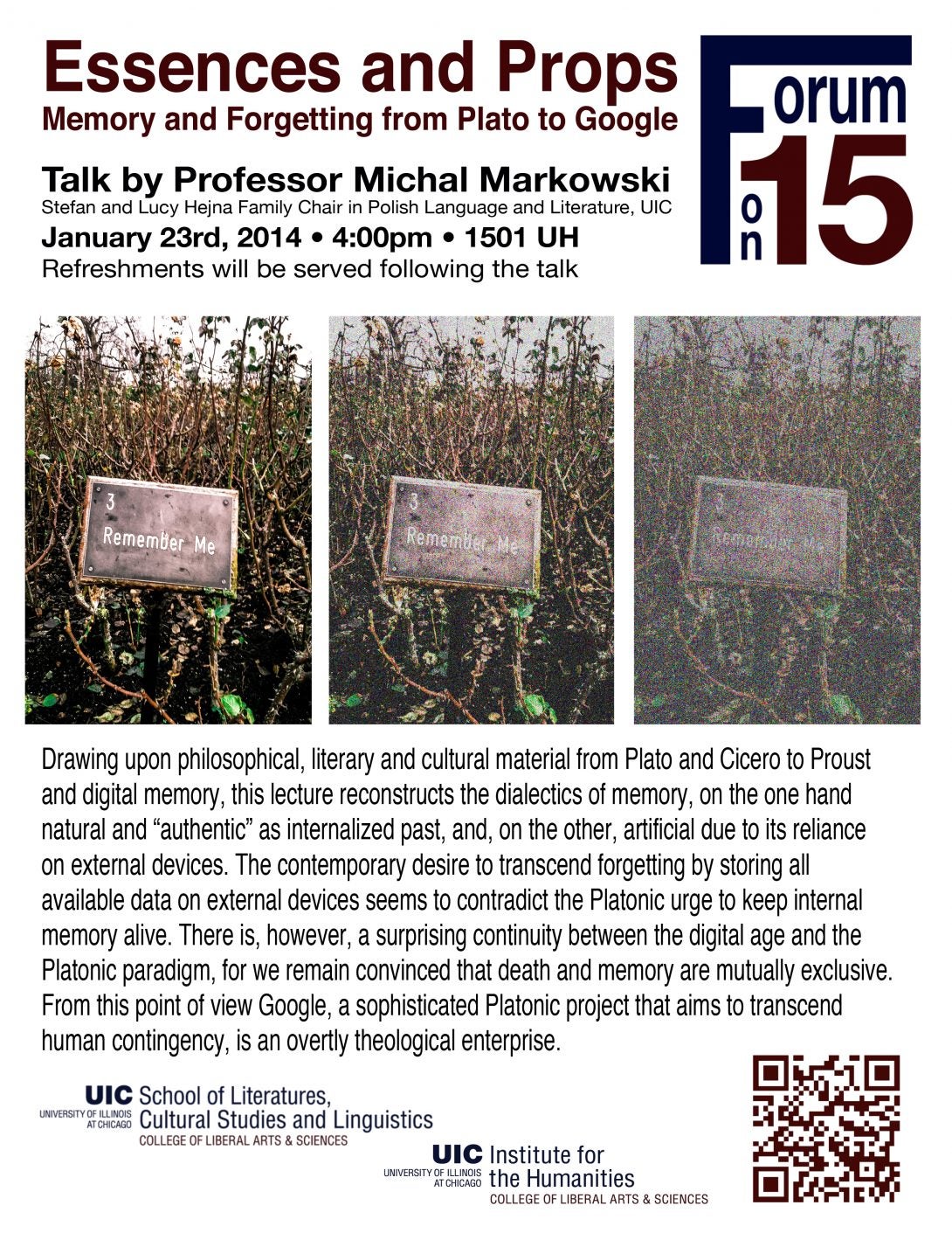 Michal Markowski
Stefan and Lucy Hejna Family Chair in Polish Language and Literature, UIC
January 23rd, 2014 • 4:00pm • 1501 UH
Drawing upon philosophical, literary and cultural material from Plato and Cicero to Proust and digital memory, this lecture reconstructs the dialectics of memory, on the one hand natural and "authentic" as internalized past, and, on the other, artificial due to its reliance on external devices. The contemporary desire to transcend forgetting by storing all available data on external devices seems to contradict the Platonic urge to keep internal memory alive. There is, however, a surprising continuity between the digital age and the Platonic paradigm, for we remain convinced that death and memory are mutually exclusive. From this point of view Google, a sophisticated Platonic project that aims to transcend human contingency, is an overtly theological enterprise.
Sponsored by:
Institute for the Humanities
School of Literatures, Cultural Studies and Linguistics
Remembering the Pain of Others: The Mechanisms of Collective Memory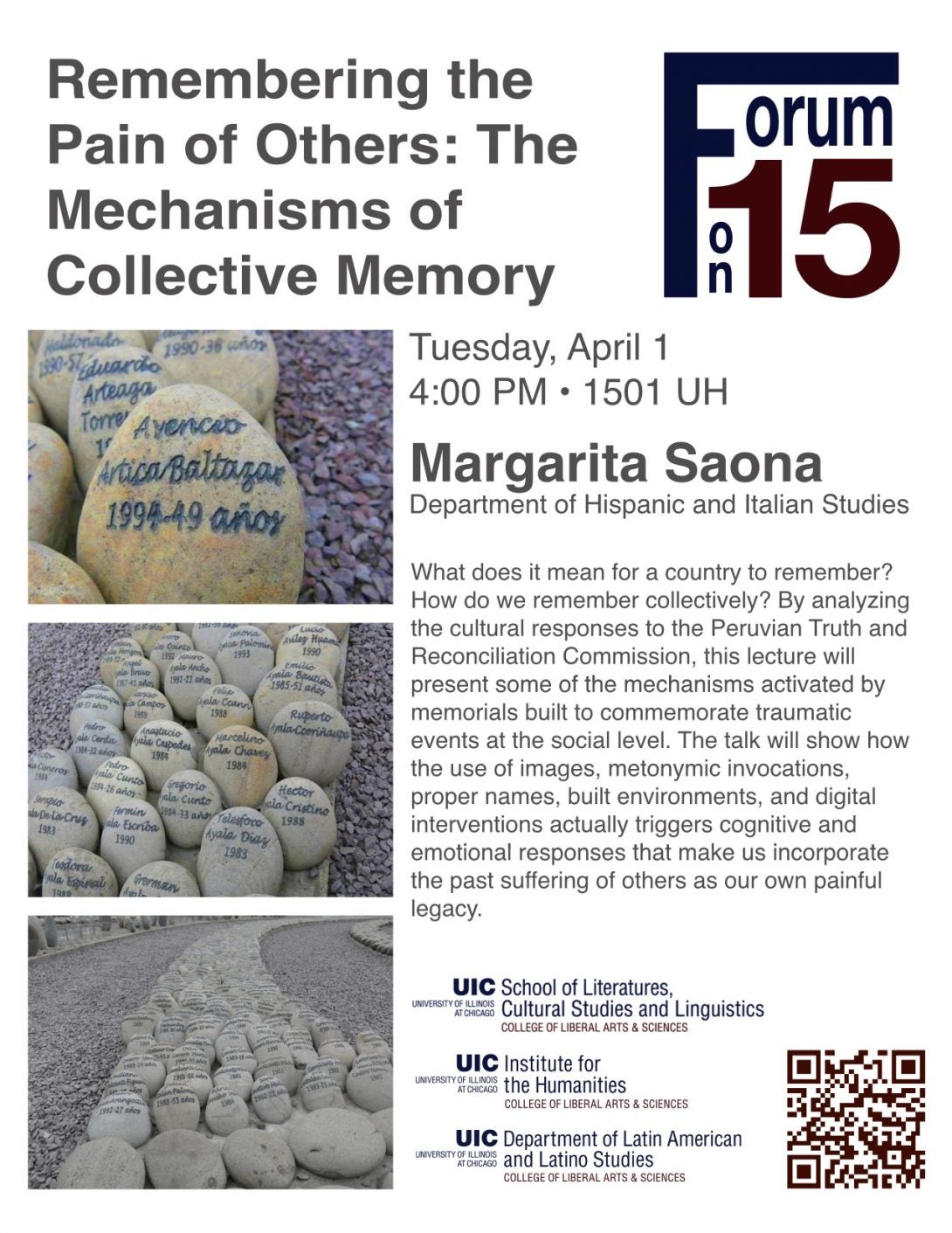 Margarita Saona
Department of Hispanic and Italian Studies, UIC
Tuesday, April 1 • 4:00 PM • 1501 UH
What does it mean for a country to remember? How do we remember collectively? By analyzing the cultural responses to the Peruvian Truth and Reconciliation Commission, this lecture will present some of the mechanisms activated by memorials built to commemorate traumatic events at the social level. The talk will show how the use of images, metonymic invocations, proper names, built environments, and digital interventions actually triggers cognitive and emotional responses that make us incorporate the past suffering of others as our own painful legacy.
Sponsored by:
School of Literatures, Cultural Studies and Linguistics
Institute for the Humanities
Department of Latin American and Latino Studies
Two Takes on Modernity: Self-Reflexivity and the North Indian Popular Cinema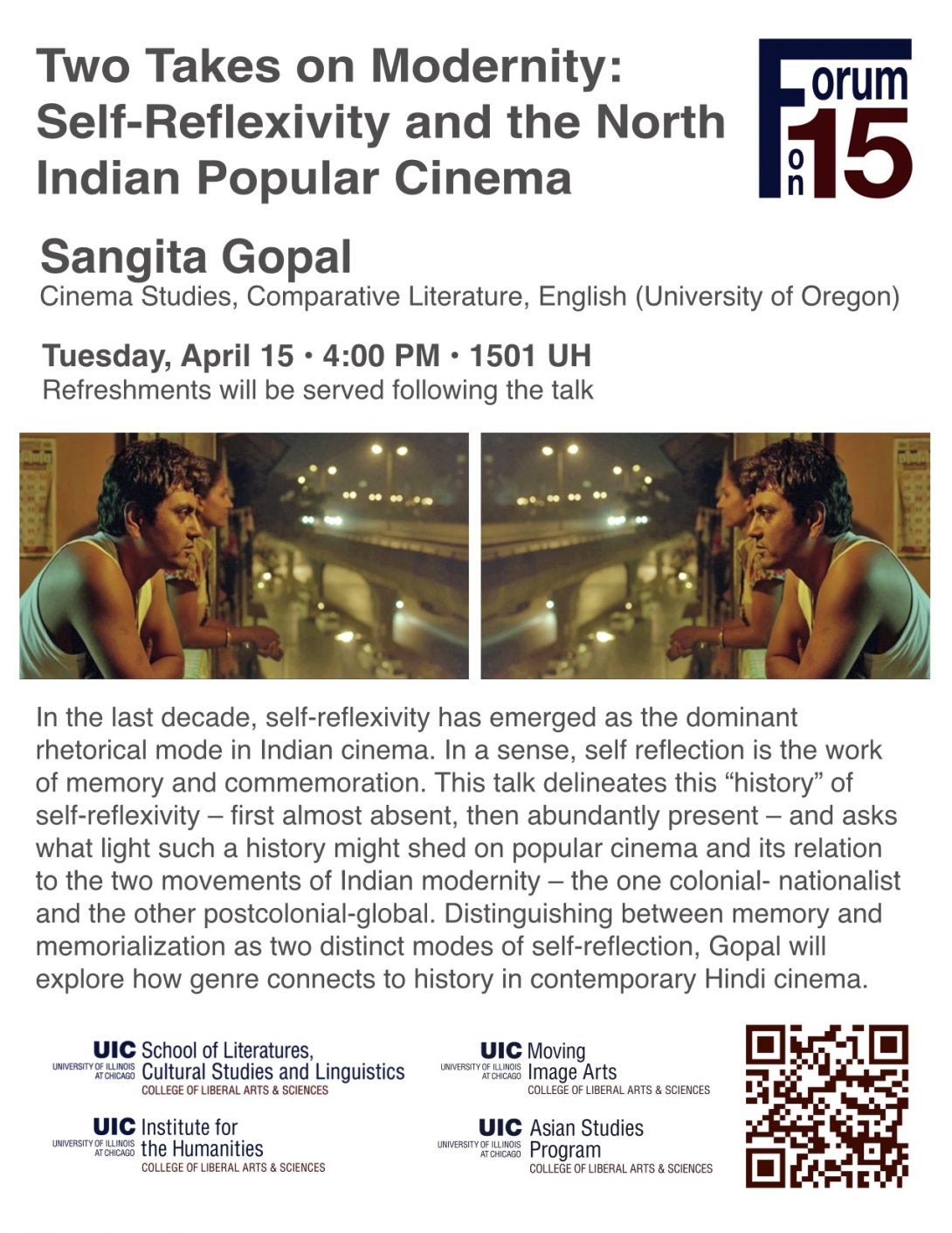 Sangita Gopal
Cinema Studies, Comparative Literature, English (University of Oregon)
Tuesday, April 15 • 4:00 PM • 1501 UH
In the last decade, self-reflexivity has emerged as the dominant rhetorical mode in Indian cinema. In a sense, self reflection is the work of memory and commemoration. This talk delineates this "history" of self-reflexivity – first almost absent, then abundantly present – and asks what light such a history might shed on popular cinema and its relation to the two movements of Indian modernity – the one colonial- nationalist and the other postcolonial-global. Distinguishing between memory and memorialization as two distinct modes of self-reflection, Gopal will explore how genre connects to history in contemporary Hindi cinema.
Sponsored by:
School of Literatures, Cultural Studies and Linguistics
Institute for the Humanities
Moving Image Arts
Asian Studies Program